Antony to be available for Manchester United selection, WSL returns: football news – live | Football
Manchester United ready to play Antony again as police inquiries continue
The Brazilian winger, who has denied allegations of violence, will rejoin training next week and be available to play.
More from Jamie Jackson below.
Key events
Will we see seven-goal thriller again? Both Tottenham and Liverpool have scored 15 Premier League goals this season (joint-fourth behind Brighton, Manchester City, and Newcastle).
Get in touch and let me know who you think will be on the scoresheet on Saturday.
While we're on the topic, let's reminisce about the last time Tottenham took on Liverpool in the league.
Back in the spring, Liverpool went 3-0 up at Anfield after 15 minutes with goals from Curtis Jones, Luis Diaz, and Mohamed Salah, against a Spurs side then managed by Ryan Mason.
Spurs then galvanised themselves, scoring an equaliser in the 93rd minute to make it 3-3. Richarlison, the goal-scorer, celebrated passionately with the travelling fans.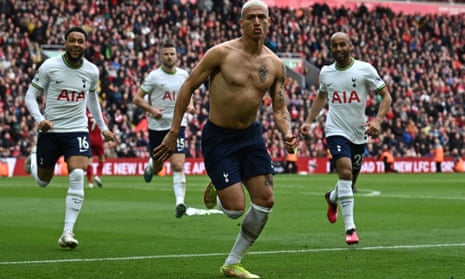 And then a minute later, Diogo Jota scored to make it 4-3. The scenes (Sorry, Spurs fans).
More from Jürgen Klopp on Liverpool's midfield rebuild and this weekend's opponents: Tottenham.
With the exits of Fabinho, Jordan Henderson, Naby Keita, Alex Oxlade-Chamberlain and James Milner, Liverpool spent quite a bit on their midfield this summer. The club brought in Dominik Szoboszlai from RB Leipzig for £60m, Alexis Mac Allister from Brighton for £35m, Ryan Gravenberch from Bayern Munich for £34.2m and Wataru Endo from Stuttgart for £16.2m.
Despite the massive overhaul in the middle of the pitch, it has so far looked to paid off. The club are unbeaten in all competitions so far, having won five of their opening six Premier League games to sit second in the table.
"We had a good pre-season with a lot of players together and that's the main reason – we could work together and that helped definitely. Then getting results in moments when maybe recently things would have gone the other way helped us grow together.

The quality of the boys is really good, the potential is outstanding, attitude good too which means a good chance for quality. The group is open to new things.

We called it a new start, this is year one for this team. These are only words but we live it, so we gave ourselves a chances to create a basis and use it.

We don't know how good we are, we don't know how stable it all is but we all see there are good moments in the games and that's what we want to increase.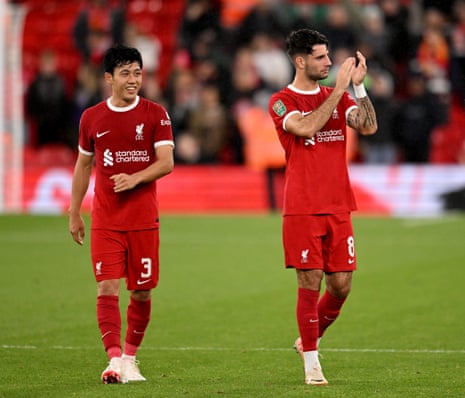 Jürgen Klopp shares thoughts on FSG selling a minority stake of the club
The Liverpool manager is pleased with the arrival of new investment into the club, even if it the funds will not necessarily be used for transfers.
FSG selling a minority stake in the club to global investment firm Dynasty Equity will allow them to pay down bank debt incurred during the pandemic and through recent improvements to Anfield and the club's training facilities.
I can understand that people see money in football as all about spending and I get that. I am part of it in moments and I want to spend money as well, but people should not forget that we are building a new stand. If somebody comes in and helps us to do it that's absolutely great. It's not that we need a budget of £200million that we can spend for the team, but the better place that we are in the more we can spend anyway.

We are in a year when we don't play in the Champions League which is a massive financial blow for a football club but we invested anyway, we improved the team anyway in the summer which is difficult but possible. But it's good news, it's money that will be well used.
Can West Ham crack into the top half of the table this season? The team need stability and the hope is new coach, Rehanne Skinner, is right for the job. Plus, can Australia's No 1, Mackenzie Arnold, continue her fine form after a stand-out World Cup this summer? Don't miss Sophie Downey's preview of the Hammers' 2022-23 season.
Let's first turn to West Ham's Hawa Cissoko, who has shared how she coped racist abuse last season.
Around this time last year, Cissoko clashed with Aston Villa's Sarah Mayling, and was sent off. Cissoko apologised, and was given a two-match ban and £200 fine by the Football Association. On social media she was bombarded with abuse, including racist abuse.
"I didn't expect it would happen to me, especially when the people that did it don't even watch our games. If it was from people who follow the league, I would understand a little bit more, but when it was from not even French or English people I was like: 'You should focus on your own business.' I realised: OK, some people are just racist and they just find every opportunity to be racist and say whatever they want."
Read more in her interview with Suzanne Wrack on feeling harshly treated by officials and wanting to become a referee herself below.
Coming up, we'll get the thoughts of Jürgen Klopp on FSG selling a minority stake to the US private equity firm Dynasty Equity.
The investment does not equate to a "transfer war chest" for Klopp, but instead will be used to pay down bank debt incurred during the pandemic, capital expenditure on the new Anfield Road stand, the new Axa training centre and the repurchase of Melwood training ground, and acquisitions in the recent transfer window.
Speaking of that 8-0: What is happening in Sheffield?
After promotions for both, the Blades and Owls have played 14 league games between them this season – and are yet to win.
Read Aaron Bower's story on how "football's first city" hit rock bottom.
Eddie Howe has confirmed the extent of Harvey Barnes' injury
We think he's going to be out for around three months. No surgery required, which is good news, but his foot is now in a boot.

It's not a fracture. I don't actually know the right term to use, but it is an unusual injury and they're a little bit baffled as to how it's come about and why it's come about.

Things will settle down and then when he comes back, which will quickly be around the corner, he'll have a big part to play for the rest of the season.
Barnes suffered the injury during Newcastle's 8-0 (Yes, that actually happened) Premier League win at Sheffield United last weekend.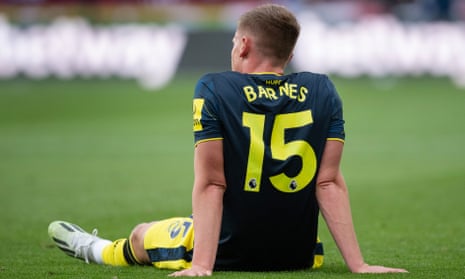 Can Man United get over last season's hurt? A devastatingly tight title race last season saw United finish second last season in the WSL, two points behind champions Chelsea. Marc Skinner has also lost Alessia Russo and Ona Batlle but has a tantalising array of attacking options and the best goalkeeper in the world at his disposal. Check out Daniel Harris' preview.
Back to the WSL now – Man United boss Marc Skinner says he can see the first WSL ending with "walking football" following the international window.
His comments come on the back of the Lionesses 2-1 loss away to the Netherlands in the in the inaugural Women's Nations League, weeks after their World Cup final loss.
I watched England's performances and I'm sure Sarina wasn't…it's not a usual England performance, right? It wasn't as fluid as they usually are, as they have been, and the players have just come off a World Cup coming into important games, difficult opponents. We were not at the races because the girls have to mentally reset as well as physically.

I just hope it doesn't have a lag into the season. We all want this energetic start. I might get it wrong, but I'd imagine every game this opening weekend will end with walking football.

From my perspective it's a crazy way to just shovel games in. I get the format, the intent, but I'm not even sure the international managers were happy with it. I think it's a strange window. It definitely wasn't ideal.

I'll give you a glimpse on our side of it. I will have had most of my team for five days of training, that's all. It's a reality of putting a window like that. We could have done with those weeks, or at least 10 days with the team. But it is what it is.

I think we need to, as governing bodies, look at when players rest and how they rest and when they recoup. Because we all know that can, even mental fatigue, cause injury. I think we need to be careful of that.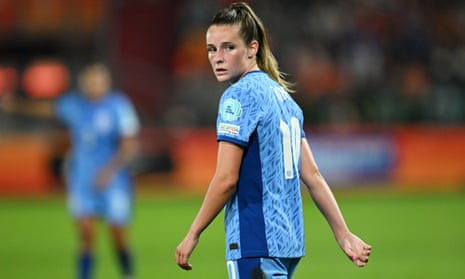 Marco Silva expects a tough match against this struggling Chelsea side, who have managed just five points from their opening six Premier League games and head to Craven Cottage for a west London derby on Monday.
"I don't know how many times we've played each other in the Premier League but he's a very good manager," said Silva on Chelsea manager, Mauricio Pochettino.
"Look at what he did at Southampton, then Tottenham and then the spell in France (with Paris St Germain). With the CV he has, he's come back to England to manage Chelsea, which is a tough job much like many jobs in the Premier League.
"I have huge respect for him, he's a very good manager and a very good guy and it will be nice to see him again.
"Chelsea is Chelsea and no-one can underestimate them because the quality is there."
Silva seems to think that fans need to be patient with Pochettino's project. What do you think? Send me your thoughts.
Emma Hayes on her new captain: "I would like to congratulate Millie on becoming our new captain. I've watched her grow as a player and a person in the nine years we've worked together and she's ready for this.
"The biggest compliment I can pay her is that you can always count on her. However big the challenge, whatever the occasion, she can cope with the pressure and the expectation.
"Even without the armband, she's been a leader for so many years. I'm not just talking about the example she sets, but she's vocal, she'll organise people on the pitch and she'll drive the team on, whether we're pushing for goals or seeing a game out.
"I can't tell you how important it is for a manager to have someone like that on the pitch."
Chelsea announce Bright as captain ahead of 2023/24 season
Long-serving defender Millie Bright becomes Chelsea's captain ahead of the new season, with former captain Magdalena Eriksson making the move to Bayern Munich this summer.
It's a massive honour to have the title of club captain," Bright said in a statement on the club's website. "Chelsea is my home. It always has been and always will be, so I'm delighted to have that title, but nothing changes. I'm in a really privileged position.

I'm excited and delighted Emma has given me the trust and put me in this position. It's an absolute honour to be captain of Chelsea, and I'm really looking forward to the season ahead.

I've led the girls out quite a lot over the years that I've been here. I've also had the honour of being vice to some top legends and amazing people I've learned a lot from.

I learned a lot from Kaz (Carney), Katie (Chapman), Mags (Eriksson) and other leaders we've had within the team. Now, it's a massive honour to have the title and to be able to call yourself club captain is huge.

I've always been me no matter what. My role doesn't change, I don't change and I've always taken pride in whether I have the armband or not, I will always lead by example.

I will always be a leader within the team because that's just who I am and what I demand from the team will never change. It's the culture at Chelsea, everyone is a leader and has responsibility.
Manchester United ready to play Antony again as police inquiries continue
The Brazilian winger, who has denied allegations of violence, will rejoin training next week and be available to play.
More from Jamie Jackson below.
Manchester United say Antony to be made available for selection again
Manchester United have issued a statement saying Antony will resume training with the club.
The statement said: "Since allegations were first made in June, Antony has cooperated with police inquiries in both Brazil and the UK, and he continues to do so. As Antony's employer, Manchester United has decided that he will resume training at Carrington, and be available for selection, while police inquiries proceed. This will be kept under review pending further developments in the case. As a club we condemn acts of violence and abuse. We recognise the importance of safeguarding all those involved in this situation, and acknowledge the impact these allegations have on survivors of abuse."
Time to think big when it comes to the WSL, says Anita Asante.
"I'm really excited for the possibilities and thrilled the opening weekend of the Women's Super League is upon us. Many players will be coming almost straight from the World Cup wanting to maintain momentum; others may feel they didn't do themselves justice there.
"To drive the game forward, you have to think bigger. It's important players feel they are part of one club, that commitment is being shown towards achieving the potential of the women's game."
Our 10 things to look out for in this weekend's Premier League matches, including a possible Raheem Sterling position change, Son Heung-min's scintillating form, and the conundrum of Newcastle's new-found popularity with television and football executives.
Jodie Taylor hangs up the boots. The former Arsenal striker, who scored at two World Cups, played for 17 clubs in six countries and won the Champions League is "at peace" with her decision to retire.
Are Chelsea the favourites once again? Emma Hayes' side have won the last four consecutive league titles. They have the star power, the depth, and the experience. But will compalcency come into play? Get in touch and let me know your thoughts. And don't miss Suzanne Wrack's preview.
Some interesting action in the WSL transfer market this summer. Maximum marks for Aston Villa and Brighton's windows but Everton and Manchester City were less successful. Plus, find out which players that dazzled at the World Cup earned a summer move to the league.
The WSL is back.
After an incredibly successful World Cup, women's club football returns, with some of the biggest stars in action on Sunday.
Aston Villa v Man Utd begin it all on Sunday with Marc Skinner's side looking like a very different team than last year. Everton v Brighton, Bristol v Leicester, Arsenal v Liverpool, and West Ham v Man City round out the afternoon kick-offs before defending champions Chelsea host Tottenham at Stamford Bridge.
And of course, we will have all the build-up to the upcoming Premier League weekend. Aston Villa v Brighton, two very in-form sides, gets us underway tomorrow. But the big one is certainly Tottenham v Liverpool, a huge test for both Ange Postecoglou's entertainers and Jurgen '3-1' Klopp.
Join me for all the news and press conferences throughout the day.