England v Australia: Cricket World Cup 2023 – live | Cricket World Cup 2023
Key events
8th over: England 29-2 ( Malan 8, Stokes 4) Hazlewood again, for what will probably be his last of this stint. A scampering Warner saves a boundary from a-not-quite-on-it slap from Stokes.
7th over: England 25-2 ( Malan 7, Stokes 1) Malan square drives gloriously for four to spoil what was otherwise a tight over from Starc.
It is still raining in Bengalaru, with Pakistan ahead on D/L and the cut-off time in just over half an hour.
6th over: England 20-2 ( Malan 3, Stokes 2) Stokes plays out a maiden from Hazlewood. Beard not bristling.
The ECB and the BCCI are the target of Anand's "OBO rant for the day."
"Just realised that the ECB did not want to be outdone by the BCCI. Hear me out…
"The whole mismanagement reg. ticketing for the world cup has been covered sufficiently.
"ECB higher ups probably decided that they can't be left behind. So, they decided to release their contracted player list in the middle of the world, ensuring that the one guy who is performing decently will retire. I wonder what Rob Key would have said about this if he were still a SKY pundit!
"However, I still think BCCI is still on top of the mismanagement table but England are in 2nd place."
I'm still baffled by the contracts thing, though Willey said he knew when the players came together pre tournament he was the only one without a contract. I guess the ECB wanted to tie players down before they got locked into lucrative T20 contracts, but now they're left paying some players whose better days may be behind them. And I still don't understand why they announced it mid tournament.
5th over: England 20-2 ( Malan 3, Stokes 2) The sight of Ben Stokes striding out to the middle has, temporarily, lost its aura. Memories of that agricultural hoick against India will live long in the memory. Starc, exceptional, has a second wicket.
WICKET! Root c Inglis b Starc (England 19-2)
Marnus Labuschagne bounces up and down at cover and convinces Cummins that he heard a "huge noise" a Root edge on a worry of a caught behind. No-one else looks particularly convinced – but Marnus's ears earn Australia a second wicket. An out-of-sorts Root pulls his chin strap over his chin and shuffles back.
4th over: England 19-1 ( Malan 3, Root 13) Hazlewood again. Root busy, trying to buy his runs through the alleyways, up the riverbed, but it isn't easy. Is he dropped again? Smith is on his knees at second slip but the replays show the ball flying just wide of Smith at second slip.
3rd over: England 14-1 ( Malan 3, Root 9) Root dropped at cover by Stoinis, who crouches into position but somehow mistimes his hands. He cuts his hand in the process and the rest of the side look on in dazed amazement. Root gets a life. Starc bowling like a dream.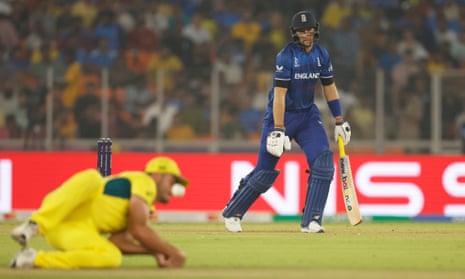 2nd over: England 11-1 ( Malan 2, Root 7) Root and Malan talk seriously, helmet to helmet. Hazelwood has the ball: he's neat: a couple of singles, a wide and one that beats the bat.
1st over: England 8-1 ( Malan 1, Root 6) A long way from an ideal start. It was a pie of a ball, wide down the leg side, but Bairstow gave himself away by immediately darting his head behind him. And off he must march, with as much furious purpose as he marched on about a minute before. From the ridiculous to the sublime – an off drive then dances across Root's bat to the rope. An lbw appeal – not out on the field, Cummins is persuaded to review, slightly reluctantly, but it was too high.
WICKET! Bairstow c Ingliss b Starc (England 0-1)
Ahem. First ball. A cough of an edge to a wide ball down the leg side, Stac can't contain his smile.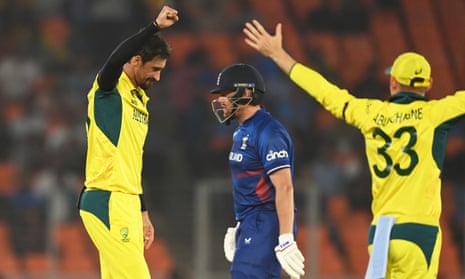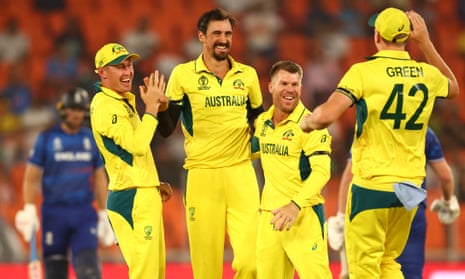 A banana huddle of Australians, Steve Smith laughs and jokes with collar up, Mike-Brearley style. . Down the steps stride Dawid Malan and Jonny Bairstow, YJB waits for him on the boundary edge and they touch gloves.
"This will be a hell of a chase – Australia are an in-form team." says poacher-turned-gamekeeper Eoin Morgan. Everyone is worried about the dew again – fyi, it hasn't fallen yet.
Thanks Jonathan, great stuff. Tricky one to call this – before the tournament an England supporter would have happily skipped out for an afternoon of errands, safe in the knowledge that Buttler's men would get this with overs to spare. But a month is a long time ….. Meanwhile, over in a cracker at Bengaluru, Pakistan have been helped by the weather. The rain came when they were 160-1 off 21, chasing New Zealand's incredible 401-6. They now need another 182 runs from 19.3 overs and have nine wickets in hand.
Follow it here:
Australia 286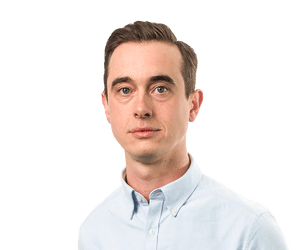 Jonathan Howcroft
On a two-paced surface that was hard to score fluently on, Australia will feel 286 is a solid score. At 38-2 and 117-4 they were under threat, but managed to eke out runs to keep their innings going, even though it never gained any real momentum.
On another day they would have succumbed to something much lower, but Australian batters had a knack of miscuing shots to vacant portions of the field. They also benefited from England's inability to hit the stumps with run-outs at their mercy.
The big-hitting Warner (15), Head (11), and Inglis (3) all fell cheaply, leaving the scoring to the grinders Smith (44), Labuschagne (71), and Green (47). Some lower order biff added some gloss, but it was a workmanlike innings that ultimately overachieved.
England bowled tidily but failed to get the rub of the green. Rashid (2/38) was the standout but Woakes (4/54) and Willey (1/48) found lines and lengths to suit the conditions. Wood deserved better than his 2/70, while the combined ten overs of Livingstone and Moeen accounted for 1/70.
2019 England would gobble this run chase for breakfast. The 2023 vintage, I'm not so sure. The toss call suggests Buttler expects batting to become easier (and bowling more challenging) as the dew falls, but this brittle England line-up, devoid of confidence, will have to see off Starc, Cummins, and Hazlewood with the new balls under lights before they can factor in those permutations.
To see you through to the close I will hand the tools to Tanya Aldred. Thank you for joining me this afternoon, I'll be back again next week.
WICKET! Starc c Moeen b Woakes 10 (Australia 286)
And another. Starc doesn't get everything on an offside slash and Moeen claims a tidy catch in the covers.
WICKET! Zampa c Buttler b Woakes 29 (Australia 285-9)
Finally, finally, a miscued slog finds a fielder. Zampa tries to launch Woakes into the stands but can only send up an edge that Buttler claims early and pouches with the gloves. A long overdue success for England and the end of a very handy innings from Australia's No 10.
49th over: Australia 285-8 (Starc 10, Zampa 29) The penultimate over of the innings takes an age. England's frustration continues to grow, and understandably so. Amongst the hodge-podge of activity there's a wide, yet another miscued slog into no-man's land, an unconventional boundary, and forlorn looks all around the field as Australia tick towards 300.
48th over: Australia 276-8 (Starc 8 Zampa 23) Woakes returns to finish the job, but after a couple of dots Zampa swings him away behind square for four. From 178-5, Australia will be very pleased with their lower order.
47th over: Australia 268-8 (Starc 7 Zampa 16) It's a cruel cruel game. England really cannot catch a break this world cup. Wood is too fast for Zampa but still has to watch in horror as a faint edge clears Buttler and screams away for four. The bowler pitches up, but the batter, waiting deep in his crease, gets the full face of the bat to it to send it back from whence it came with interest. Another mistimed slog squirts off the splice and lands safely in the on-side. On another day Australia could have been out for under 200. As it is, they will be defending close to three hundred after barely leaving third gear.
46th over: Australia 257-8 (Starc 7 Zampa 5) Liam Livingstone expected to remain in the attack following his success in the previous over, only for Buttler to recall Willey instead. Poor Livingstone looked crestfallen. Morgan and Ponting would definitely have backed in the leggie as the more attacking option against two tailenders. As it is, Willey goes for four singles and a two, as well as watching Starc miscue a pull safe in front of square and Zampa spiral an edge that somehow evades both Buttler running back and third steaming in.
45th over: Australia 250-8 (Starc 3 Zampa 2) Seven runs and the wicket from Wood's over. This latest pair of Australians seem happy just to survive for a few minutes before going the tonk at the very death.
WICKET! Cummins c Malan b Wood 10 (Australia 247-8)
After gambling with Livingstone, Buttler gambles with the pace of Wood. As with the previous call it begins badly with Cummins riding the pace and guiding a cute four down to third. But just as the previous over the batter doesn't know when to hold'em or fold'em, and he pulls his next delivery tamely off the splice to Malan at midwicket inside the ring.
44th over: Australia 243-7 (Cummins 6 Starc 2) 12 runs and a wicket from an eventful Livingstone over.
WICKET! Stoinis c Bairstow b Livingstone 35 (Australia 241-7)
Buttler, looking for overs, calls on Livingstone. Marcus Stoinis licks his lips at the decision, slog sweeping the allrounder into row z, then belting a long hop over the bowler's head for a one-bounce four. He tries to make it three in a row but he perishes! It was another fierce hit but he couldn't clear the leaping Bairstow sweeping the midwicket boundary, the sometime keeper taking a magnificent catch above his head. Another untimely dismissal for Australia who were just gathering momentum.
43rd over: Australia 231-6 (Stoinis 25, Cummins 6) Willey is bang on the money, beating both batters on the outside, as well as watching a loose Cummins drive squirt over point. England have not allowed Australia to get away from them at any point this afternoon.
42nd over: Australia 226-6 (Stoinis 24, Cummins 2) The eagle eyed among you may have noticed Adil Rashid was withdrawn nine overs into his spell. Well, with Cummins on strike he returns for his tenth. The Aussie skipper isn't taking the bait, dead batting three deliveries, then he and Stoinis exchange safe singles. Rashid finishes with 2/38. Superb figures from an excellent spell.
41st over: Australia 224-6 (Stoinis 23, Cummins 1) Aaron Finch explains that while that dismissal looked very ugly, it actually wasn't bad batting (in theory). Nonetheless, he's back in the hutch and England have a chance to bowl Australia out.
"Aussies looking good for 270 – 290 then? Maybe a few more, maybe a few less. Given that England's only real innings so far was against Bangladesh and that they are like rabbits in the headlights/floodlights in front of a seriously streetwise bowling attack… Re Buttler's decision to insert, would you trust this lot to post a total at the moment? Maybe he's thinking of the crowd, trying to give them at least 70 or 80 overs of entertainment for their entry fee? I'm guessing they're already looking at re-booting from as low a position as possible in the rankings, from that point it's all Yazz." Jeremy Boyce, I honestly have no idea. England's approach this world cup has been unfathomable, why would they change today?
WICKET! Green b Willey 47 (Australia 223-6)
Massive wicket for England. Out of nowhere, Green goes across to the offside and tries to slog sweep Willey wide of the very fine fine-leg. He doesn't. He misses the ball. The ball hits the stumps. It all looks very ugly. Australia's bowlers have a job to do with the bat.
40th over: Australia 220-5 (Green 47, Stoinis 20) Not for the first time today a tidy over from Woakes is undone by a needless bouncer that sits up begging to be punished by Marcus Stoinis. This pair are not yet motoring but both are looking to assert themselves. Everyone seems to acknowledge the next wicket is crucial with Australia into the bowlers if this partnership is broken.
39th over: Australia 212-5 (Green 45, Stoinis 15) David Willey also returns to the attack and a decent over goes for just two singles thanks to some neat out-fielding. That does not include Rashid failing to throw down the stumps to run out the stranded Green – England's fourth failure of its kind. Although, to be fair to Rashid, the blame may lie with Willey who appeared to gather the ball in front of the pegs, interrupting its journey, which seemed on a good course. Guess we'll never know.
Peter Salmon is determined to prove Ponting > Smith. "At the risk of going down a rabbit hole (too late) it seems that Ponting's Test average at 34 (in 2008) was nudging 60, slightly higher than Smith's. Can't find equivalent in one-dayers, but Ponting's overall 42 and Smith's current 43.4 suggest something similar. And Ponting's ODI strike rate of 80.39 pre crazy times is surely the equivalent of Smith's 87.63? So I think we can all agree Ponting is better. Plus there's this for fans of direct hits and nice segues."
Peter, I am definitely here for this and hope this prompts a long read with reams of statistical comparisons somewhere. I very much prefer RP as a cricketer (and love him as a commentator) so would be delighted for the stats to back up my eye. I just presumed Smith's orgy of runs put him in a whole different stratosphere.
38th over: Australia 210-5 (Green 44, Stoinis 13) Cameron Green welcomes Chris Woakes back to the attack with one of the shots of the day, an imperious cover drive, on the up, to a decent length delivery. England miss their third run-out attempt of the innings. I've said my piece on that. This partnership is now 32 at better than a run a ball.
Meanwhile, it's raining in Bengaluru, and Pakistan – chasing 402 – are ahead on DLS!
37th over: Australia 202-5 (Green 39, Stoinis 11) Wood continues hurling himself towards Australia with the intensity of Ted Hastings going after bent coppers. Green tries to pull a short ball but again doesn't time it. He then opts to get out of the way and accept a strike-rotating glance down to fine-leg. Stoinis doesn't look fluent but after a couple of dots pierces the offside ring for a square boundary.
36th over: Australia 197-5 (Green 38, Stoinis 7) Stoinis does not look comfortable at all against Rashid, prodding and poking… until he slog sweeps a massive clean six. The follow-up is slower, tempting, spinning past the groping outside edge. Who'd be a bowler?
35th over: Australia 190-5 (Green 37, Stoinis 1) That wicket from the final ball of his previous over probably earns Wood another go. He might wish he hadn't after losing his line and length and going for a brace of twos, but he responds with a terrifying short ball that Green doesn't pick up and is lucky to end up gloving in front of his throat. The follow-up is a fast yorker with a hint of reverse swing, but the batter does superbly to angle his blade and steer a boundary wide of third. Excellent cricket.
34th over: Australia 181-5 (Green 27, Stoinis 1) Plenty of chat on the telly about Stoinis struggling against spin and how the sweep is his only out shot. Cue the sweep, straight to the man on the 45, followed by a nervous prod at an unpicked googly. Lovely bowling. Rashid has been England's trump card today.
"Regarding the supposed Steve Smith conundrum from a few overs ago," emails Geoff Wignall, "mightn't it be simply that as you say, 'with such an idiosyncratic approach to begin with, it relies so much on timing and hand-eye coordination – more like a golf swing. Consequently, the margin for error is smaller' – and that supreme hand/eye co-ordination doesn't survive beyond the early thirties Incidentally a point Bishen Bedi made the first time he watched Kevin Pietersen." I agree Geoff, and I was in the process of adding that to my earlier response, but the cricket was getting away from me and I had to rein myself in while I searched for Smith's birthday. He's 34, by the way.
33rd over: Australia 178-5 (Green 26, Stoinis 0) Three wides, two boundaries and a wicket in a potpourri of an over from Mark Wood that also featured Green miscuing a pull off the splice.
"The highest score by England in this WC while chasing is 215," emails Krishnanmoorthy, "so we can officially end the misery in another six overs, right?" I would streak at the MCG if Australia declared.
WICKET! Labuschagne LBW Wood 71 (Australia 178-5)
Fast and full from over the wicket, angling in, beating the batter for pace and crashing into the pads. Marais Erasmus liked the appeal on the ground, and his decision was backed up by DRS. The review was not without merit considering Wood's angle and the height on the pad that the ball struck the batter, but Labuschagne has to go.
Labuschagne is given out on-field LBW to Mark Wood.