Luton v Tottenham: Premier League – live | Premier League
Key events
62 min: Sarr finds Porro on the right-hand corner of the Luton box. Porro manufactures a glorious curling shot with the outside of his boot, beating Kaminski but also the left-hand post. Inches wide. That would have been one heck of a strike.
60 min: Romero and Adebayo exchange views after a garden-variety rumble in the Spurs box, grown men and all. It's all over quickly enough.
59 min: Morris powers his way past Romero down the inside-left channel and shoots from a tight angle. Vicario parries. Luton have responded well to falling behind and are asking one or two questions.
58 min: Andersen has pulled his hamstring, and is replaced by Mengi.
56 min: A diagonal ball drops to Doughty, on the left-hand edge of the six-yard box. He's only got Vicario to beat, but almost hits his volley too well, creaming it across the keeper and wide of the right-hand post. Luton aren't finished yet!
54 min: A frustrated Nakamba lungs in on Porro and is fairly fortunate not to get a yellow card.
GOAL! Luton Town 0-1 Tottenham Hotspur (Van de Ven 52)
Kulusevski takes it short. Maddison spins on the byline and pulls back for Van de Ven, who steers a first-time shot across Kaminski and into the bottom left! Luton, to join in with the Spurs fans serenading the goalscorer, finally give it up.
52 min: … is told in no uncertain terms to hurry up taking it. When it eventually comes in, Spurs win a third corner, which will come in from the right again. And from that …
51 min: Maddison sends in a corner from the right. It's flicked out to Hojbjerg, who scuffs a shot from the edge of the D wide left. But there's a deflection, and that'll be another corner. Maddison trots across to take it, and …
49 min: Ogbene put that ball on a plate for Adebayo. An utterly absurd miss. Poor Adebayo lost control of both legs there, he was all over the place. Luton, despite all those earlier Spurs chances, should be leading.
47 min: … Ogbene crosses low from the right. Adebayo should trundle home from a couple of yards, but like Richarlison on exactly the same patch of grass before him, somehow fails to convert at the far stick! He gets the ball tangled between his legs and the chance is gone. Wow.
46 min: … but it's Spurs who are on the front foot immediately. Son tries to release Maddison down the middle, only for his pass to be intercepted by Burke. Luton go up the other end, and …
Luton get the second half underway. Spurs have been forced into a change in the wake of Bissouma's preposterous carry-on: Richarlison is sacrificed for the more defensively minded Hojbjerg.
Half-time postbag. "Bissouma – jeez, that's one of the most idiotic pieces of play to earn a red card that I have seen in a long time. He's been really good so far this season but he will have some apologising to do if Spurs don't win this. What a clown" – Martin Gamage
"Every season, teams in the Premier League are overrated. Brighton was put on a pedestal and last week got cut to size. After beating Liverpool last week so much was written about Ange and Spurs. We all know they were not good enough to beat Liverpool; 45 minutes against Luton and it is a case of seeing their true colours" – Jeff Sax
Half-time entertainment. Seeing we're at The Kenny …
HALF TIME: Luton Town 0-0 Tottenham Hotspur
The whistle goes for the break. Spurs should be leading, but now Luton have real hope. Big Ange wears the look of a man who is about to have a short conversation with Yves Bissouma.
RED CARD: Bissouma (Tottenham Hotspur)
45 min +3: Bissouma drives towards the Luton box … then dives. What on earth is he thinking?! He's already been booked, and the second yellow earns him an early bath. What rank idiocy.
45 min +2: Van de Ven drives forward again. This time he doesn't take a daft shot. Instead he lays off for Richarlison, who combines with Son to tee up Maddison. A shot flies harmlessly over the bar.
45 min: Corner for Spurs. Maddison sends it in from the left. Burke bashes a header clear. There will be three added first-half minutes.
44 min: Lockyer and Morris are back on. Morris has some tissue paper stuck up his bleeding nose, and more tissue in his hand to mop up any extra blood.
43 min: With both Lockyer and Morris waiting to come on, the ball's hoicked into the Luton box. It springs up and onto Ogbene's arm, as the Luton player tussles with Kulusevski, and there's a VAR check for a penalty, but common sense prevails. We play on.
41 min: That's a tough break for Lockyer, who bravely headed that home and took a boot in the teeth for his trouble. There was no malice in Udogie's attempted clearance, but it's a sore one nonetheless. Morris also took a whack upside the head in the melee.
DISALLOWED GOAL: Luton Town
39 min: The resulting free kick is pumped into the mixer. Adebayo wins the ball at the far post, hooking it over Vicario and off the bar. Lockyer bundles the rebound into the net, but the goal won't stand. Adebayo had won the ball after shoving Romero in the chest while the Spurs defender was in mid-air.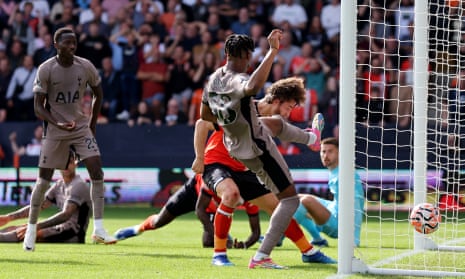 38 min: Bissouma drags back the in-flight Ogbene and that's his fifth yellow card of the season already. He'll be suspended for Tottenham's next match.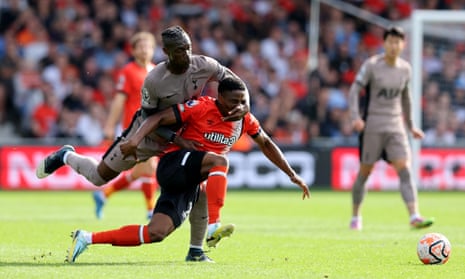 36 min: Spurs stroke it around the back patiently. Even so, they must be wondering how they're not leading this match.
34 min: Morris is booked for sticking his elbow into Richarlison's lug as the pair compete for a high ball. That's a bit harsh, given Richarlison was standing around like a man waiting for the bus, while Morris had his eyes fixated on the ball. But here we all are.
33 min: Some lovely skill up the other end now, as Maddison Cruyff-turns his way past Nakamba and is hauled back for his trouble. A free kick just to the right of the Luton D. Maddison hoicks it harmlessly over the bar.
31 min: Ogbene spins gracefully to the left of the Spurs D, then feeds Doughty on the overlap. Doughty's cross goes straight down Vicario's throat. Waste of a good position, and a lovely bit of skill.
30 min: Sarr steals the ball off a snoozing Nakamba, then rolls to Kulusevski, just inside the box on the right. Kulusevski opens his body and steers a first-time shot towards the bottom left. It's heading in, but Kaminski fingertips sensationally around the post. What a save that is! Nothing comes of the resulting corner.
28 min: A long punt down the middle nearly opens Spurs up. Adebayo can't tear clear, but sends a pass wide right to Morris. However the flag goes up for offside. No need for VAR to get involved, thank the football gods.
26 min: Brown drops a shoulder in an attempt to make ground down the right. The trick doesn't come off, but Luton are suddenly playing with a little confidence.
25 min: Ogbene drives down the left again, and wins Luton's first corner of the match. The crowd are up. So are most of the Luton team. Into the mixer it goes. Morris and Lockyer get in each other's way, six yards out, and the ball flies over the bar. Much better from Luton.
23 min: OK, this is better now from Luton. Ogbene finds a yard of space down the left and reaches the byline, but his cutback doesn't find Morris. No matter, that's got the fans going. For the first time this afternoon, the hosts looked dangerous.
21 min: … so having said that, Luton swarm around Porro and claim possession. Nakamba lashes over from distance. It's not much, but it's something. "God that Spurs away kit is terrible," writes Sanjeeva Perera. "What's it supposed to be? Chip fat brown?" It's the tastiest shirt in the Premier League.
20 min: Maddison's free kick is uncharacteristically witless. Luton clear it easily enough. But a Spurs goal is surely just a matter of time. Luton have been abysmal.
19 min: Lockyer is booked after taking a heavy touch while playing out from the back and scything down a predatory Maddison while attempting to remedy the situation. Really careless, really poor. A free kick just to the left of the box.
18 min: Brown has his pocket picked 25 yards from goal. Richarlison aims a curler towards the top right. High and wide.
17 min: Kulusevski crosses low from the right. Lockyer hooks clear, with Maddison waiting to tap in from six yards. The ball breaks to Son, who wafts a poor effort straight at Kaminski. The pattern of this match is getting old.
16 min: Van de Ven strides forward and belts a speculative one high over the bar.
14 min: Maddison lays off to Bissouma, who looks for Romero on the right-hand corner of the six-yard box. Romero can't bring the ball down and it's a goal kick. In the dugout, Ange Postecoglou looks a bit miffed himself, no doubt cursing his team's early profligacy.
13 min: Richarlison is stopped mid-flow in the unceremonious style by Brown. Free kick out on the left. Everyone lines up on the edge of the Luton box, waiting for Maddison to deliver.
12 min: Luton continue to struggle retaining possession. Their fans continue to belt out their songs nonetheless.
10 min: Maddison finds Son on the edge of the Luton D. Son attempts to curl one into the top left but the effort flies high and wide, albeit not by any great distance. So that's four near misses now. Spurs have done everything but score.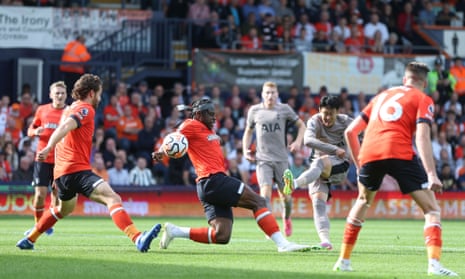 8 min: Some succour for Luton, who finally string a few passes together. Morris crosses low from the right, nearly finding Mpanzu on the penalty spot. Romero stands firm to ensure Mpanzu can't control or get a shot away. Whether that move cheers Rob Edwards or not is a moot point; he's been effing and jeffing at his team as a result of their slow start.
7 min: Porro one-twos with Son down the middle. Porro suddenly finds himself one on one with Kaminski, simple as that. Porro prods inches wide of the right-hand post. It's no exaggeration to say Spurs could, possibly should, be 3-0 up already.
6 min: Romero and Kulusevski combine crisply down the right. They feed Son infield. Son has a crack from the edge of the box. Blocked. A Spurs goal already looks inevitable.
5 min: Luton have enjoyed four percent of possession so far. Yeah, they'll have to dig in all right.
4 min: It's a fast, confident start by Spurs. Richarlison opens his body down the inside-left channel and attempts to steer one into the bottom right; Kaminski sticks out a leg to deflect clear. Looks like Luton may have to dig in during these opening salvos.
3 min: … and now he cops some more, as Kulusevski sends an inswinger in from the right flank. Richarlison pops up at the far stick, only to shin wide of an open goal from a couple of yards. What a miss!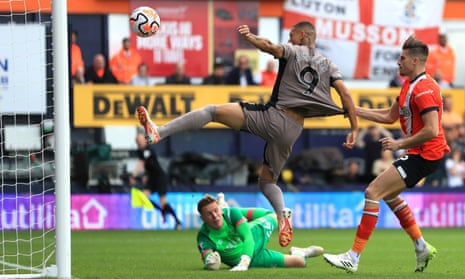 2 min: Richarlison scampers down the left but can't find Son in the middle. Richarlison then cops some pantomime abuse as a former star of Watford.
25 sec: Brown leaves a calling card on Maddison. Welcome to The Kenny!
Spurs kick off … but only after the players of both sides take the knee. There's no room for racism.
The teams are out! Luton Town have enjoyed three previous stretches in the top flight of English football. Between 1955 and 1960 they sported white shirts; in 1974-75, they wore orange with a white sash; between 1982 and 1992 they were back in predominantly white tops. And now they're back in orange. So what are Spurs wearing? Their lilywhite tops of course. Third-choice grey. The atmosphere is cracking, and we'll be off in a couple of minutes!
What's at stake here today. As mentioned already, Spurs can go top with a win …
… while Luton would love to extricate themselves from this nonsense. A big match at both ends of the table.
Ange Postecoglou speaks to TNT. "There's no doubt there'll be some focus on VAR this week but hopefully we'll be talking more about the football … today is a tough challenge against a good team … it's good for us that we don't have to make changes, the core of our team has been consistent … Luton are a threat going the other way, so if you over-commit or take liberties with the fact you might have more possession or more territory, they can hurt you … the last thing you want is to be facing a low block and also being a goal down … we've had a couple of late victories where we've maintained our composure and we're going to need that today … I'll take the flak for anything that doesn't work, players get a sense of comfort out of that."
He also argues that being top in October, which Spurs will be if they win today, is "nothing to get too excited about … Henry Winkler ranks higher!"
Luton boss Rob Edwards talks to TNT Sports. "We've had a difficult start but our performances have been really good … we had a real good go against Burnley … it showed we've moved forward a lot from last year … last year we played well against Burnley but only created one big opportunity … the other night we had a lot of good chances and played well … I don't think we've got the points our performances have deserved … we want to try to get the points now."
Luton make three changes to the team that went down 2-1 at home to Burnley on Tuesday evening. Mads Andersen, Reece Burke and Elijah Adebayo are in; Amari'i Bell is hamstrung, while Teden Mengi and Issa Kaboré drop to the bench, alongside Ross Barkley.
Tottenham Hotspur are unchanged from their win over Liverpool last Saturday. You might have heard about that one. Eric Dier, Giovani Lo Celso and Bryan Gil return to the bench.
Luton Town: Kaminski, Burke, Lockyer, Andersen, Brown, Mpanzu, Nakamba, Doughty, Adebayo, Ogbene, Morris.
Subs: Barkley, Berry, Woodrow, Kabore, Chong, Mengi, Krul, Giles, Johnson.
Tottenham Hotspur: Vicario, Porro, Romero, van de Ven, Udogie, Sarr, Bissouma, Kulusevski, Maddison, Richarlison, Son.
Subs: Skipp, Hojbjerg, Gil Salvatierra, Emerson, Dier, Lo Celso, Forster, Davies, Veliz.
Referee: John Brooks (Leicestershire).
Here's what happened the last three times this fixture has been played.
Luton Town 0-0 Tottenham Hotspur

Luton Town 0-0 Tottenham Hotspur

Luton Town 0-0 Tottenham Hotspur
OK, so those matches were played in March 1992, April 1991 and December 1989 respectively. But sequences are sequences are sequences, and this one is a state of affairs that surely can't go on indefinitely. The additional fact that the seven Premier League matches involving Luton this season have produced 20 goals, and the fixtures featuring Spurs have brought 25, at a rate of 2.9 and 3.6 goals per game respectively, suggests we may be onto something here. Goals please! (Though to be fair, Luton would probably take another goalless draw and a precious point today; Spurs, desirous of going top for 28 hours at least, not so much.) Kick off is at 12.30pm BST. It's on!