Pakistan set Afghanistan target of 283: Cricket World Cup 2023 – live | Cricket World Cup 2023
Key events
9th over: Afghanistan 60-0 (Gurbaz 28, Ibrahim 32) Target 283. Mike Atherton makes a good point on telly about the after-dark conditions at Chennai being good for India when chasing against Australia earlier in the tournament – on that occasion, the pitch was far better for spin when the sun was shining. Back to the middle, and Hasan has replaced Shaheen – swung around to the other end. And guess what? Another boundary – through the off side, that's the shot of the night so far from Zadran who laces a cover drive between two fielders inside the circle. They're up to 11 boundaries in nine overs so far. The shots of Pakistan's coach, Mickey Arthur, are telling – he's absolutely ticking. Not unusual for him, to be fair.
8th over: Afghanistan 55-0 (Gurbaz 28, Ibrahim 27) Target 283. Haris Rauf is Pakistan's quickest bowler and he's on to replace Hasan Ali, who hasn't been crash-hot so far. But speed is a recipe for yet more boundaries, with Gurbaz overtaking Ibrahim in the space of an over – 17 runs coming from it! The first three boundaries are crunched through the posh side, taking advantage of pace and width – really dominant stuff, not giving the new bowler any chance to settle. The final ball is much better, zipping back off the seam, but luck goes with the right-hander, an inside edge beating going over the middle stump and racing to the rope as well. I said at the start that Afghanistanx needed to put a dent in this chase by the end of the tenth over, well they've done that already with two overs left with the field up.
7th over: Afghanistan 38-0 (Gurbaz 12, Ibrahim 26) Target 283. Shaheen continues in search of a wicket – this is such an important partnership. There's only one ball for Gurbaz to throw his hands at and he does so by cutting hard into the turf, the ball leaping over the fielder inside the circle and running away for four. Babar has to be careful here – it is not the plan to bowl Shaheen for five overs off the top but there isn't a lot of seam support with three spin options to follow shortly.
6th over: Afghanistan 34-0 (Gurbaz 8, Ibrahim 26) Target 283. Messy from Pakistan. Before the appeal/overturn there's a misfield from Shaheen at deep third. It costs them one not three, but still, the energy isn't good from the men in green so far. This is reinforced by Hasan's final ball here, giving Ibrahim something short and wide enough outside the off stump to smash away, so he does just that – four more.
"If this is to be the last 50 over World Cup, then the format is done, right?" The question from Kevin Wilson. "I can't see any logic in pointless bilateral series, and then what is the reason to play the game at the domestic level? I am sure the ECB are looking on, excitedly, having already sidelined this competition. I can guarantee there will be a T20 World Cup every year now for whatever spurious reasoning."
Well, it depends on how detailed and dramatic you want me to go here. In a paragraph, I suspect there'll be a dramatic reduction of international cricket by the time we reach the next FTP, which from memory kicks in by 2028. Of course, we'll get our fill each summer in England and Australia (for instance) where Test cricket underpins the broadcast deals. But those drawn to the idea of IPL and IPL-adjacent T20 leagues dominating the calendar with international windows will be happy.
NOT OUT! Flat line… it has missed everything; no noise picked up. An odd one.
IS IBRAHIM OUT CAUGHT BEHIND HOOKING? He's given out on the field by Paul Reiffel following the appeal from Hasan Ali but the review comes right away.
5th over: Afghanistan 28-0 (Gurbaz 8, Ibrahim 20) Target 283. Just a couple of singles off Afridi here, giving them nothing. The challenge for Babar Azam, always so, is how he uses the remaining seven overs. They missed a trick against Australia, leaving him until over number 35 after four off the top. But when you've got one obvious standout bowler like this, there's no easy answer for a skipper.
As Tim mentioned earlier, we've received sad news of Bishan Bedi's passing. An all-time master of his craft, which he turned into art with his beautiful approach. Vale.
4th over: Afghanistan 26-0 (Gurbaz 7, Ibrahim 19) Target 283. Zadran takes Hasan Ali over square leg for a few – not quite the timing for another boundary but keeps the pressure on. Better from the experienced right-armer, getting one to come back off the seam to locate the inside edge of Gurbaz but it misses the woodwork. Afghanistan's batting has been strong through this comp with the exception of their misadventure against New Zealand last week. So much of this is about belief.
3rd over: Afghanistan 22-0 (Gurbaz 6, Ibrahim 16) Target 283. Better from Afridi, who belatedly finds his range. The only scoring shot is increased by one after a couple of wayward throws from the same delivery – both sloppy and funny.
Gee, what a shock this report is. So sad. So avoidable. Own goals everywhere.
2nd over: Afghanistan 18-0 (Gurbaz 5, Ibrahim 13) Target 283. Hasan gets the other new ball and starts well to Zadran – full and straight. But three dots are followed by back-to-back boundaries. The first of those is cut away with ease then the next is another of those square drives we saw in the first over from the right-hander – what a sound that makes out the middle of his bat. It was essential they started this way.
Now, a reminder of where Pakistan are at. Having saluted in their first two games against the Dutch and Sri Lanka, they were then spanked by India and beaten in a high-scoring affair by Australia on Friday. They simply have to win today with South Africa, Bangladesh, New Zealand and England to come – a tough run home.
1st over: Afghanistan 10-0 (Gurbaz 5, Ibrahim 5) Target 283. Four from the first ball! Gurbaz helps away a full swinging delivery that's off target, clipped to fine leg. Ibrahim's turn later in the over, using the pace to hammer the left-armer through point on the square drive – too full, top batting. Just the start they needed.
The players are back! Zadran and Gurbaz, can they make the most of the power play? It might help Afridi get busy too, on the back of a five-wicket bag against Australia on Friday. Sure enough, he is taking the first over. 283 is the target. PLAY!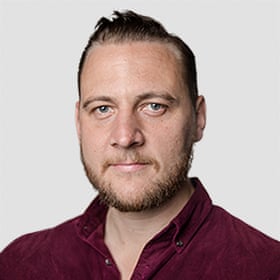 Adam Collins
Nice one, Tim. Lovely to be sharing duties with you over here once again. I caught enough of the first innings to get the sense that this is what we can expect in the second half of the group stage as these grounds take more traffic on them. So with that said, Pakistan's 282-7 is a touch better than it looks; boundaries won't be easy to come by once the sweepers retreat. It makes Afghanistan's upcoming power play even more important than normal with Rahmanullah Gurbaz and Ibrahim Zadran, one of the most exciting opening partnerships in world cricket at the moment, more than capable of putting a real dent into this, even against Shaheen Afridi.
And let's hope this gets as tense as it was four years ago when these teams met. Maybe not to the extent that it boiled over then with fisticuffs in the crowd (unlikely as that is given how few Pakistan fans are about), but these teams do not get along so you can expect to see a bit of that if the blue-and-reds get close.
Stay in touch with me over the next few hours – email or tweet, you decide.
Pakistan started well, finished very well, and went to sleep in between. Afghanistan's four spinners were excellent, as if putting on an instant tribute to the late great Bishan Bedi, leader of a spin quartet himself.
The teenage wrist-spinner Noor Ahmad enjoyed a memorable debut, dismissing all the big names in the Pakistan top order – Abdullah Shafique, Mohammad Rizwan and Babar Azam. But then Iftikhar Ahmed took over, blasting 40 off 27 balls and adding 73 off only 7.3 overs with Shadab Khan. At the break Pakistan are back on top, but Afghanistan have a sporting chance.
That's me done: Adam Collins will be with you shortly. Thanks for your company as ever.
PAKISTAN FINISH WITH 282 (Shadab c Nabi b Naveen 40)
50th over: Pakistan 282-7 (Shaheen Shah Afridi 3) Naveen does well at the death, not just dismissing Iftikhar but preventing boundaries and then nabbing Shadab, caught at long-on off the last ball.
WICKET! Iftikhar c Azmat b Naveen 40 (Paistan 279-6)
Live by the sword, die by the sword. Iftikhar toe-ends a wide one to deep extra, but he's done a terrific job here – 40 off 27 balls, with two fours and four sixes.
49th over: Pakistan 279-5 (Shadab Khan 40, Iftikhar Ahmed 40) Azmat dishes up a wide and then a gift – pace on, in the slot, lofted for another six by the remorseless Iftikhar. The next two balls are wides too, and that's 16 off the over. The wheels have now left the building.
48th over: Pakistan 263-5 (Shadab Khan 35, Iftikhar Ahmed 32) Naveen continues as Hashmatullah doesn't have much choice now. He is pumped for six by Iftikhar, then edged for four. Iftikhar has batted like a man who is pissed off with his captain for using up so many overs.
Afghanistan have done so well with their spinners, and yet, in order to win this match, they're still going to have to pull off the highest run chase in their history.
47th over: Pakistan 250-5 (Shadab Khan 33, Iftikhar Ahmed 21) Rashid is done now, with a thrifty 10-0-41-0, and the wheels are finally coming off for Afghanistan. With the part-time seamer Azmat in their sights, the batters' eyes light up. Shadab pulls for six, then dabs for four; Iftikhar duplicates the dab and that's 16 off the over. This partnership has already rattled up 44 off 5.1 overs.
46th over: Pakistan 234-5 (Shadab Khan 22, Iftikhar Ahmed 16) Iftikhar's crunchy cameo continues as he drop-kicks Naveen for six. With several singles and a couple of wides, the over goes for 13. That's more like it.
Ah, sad news. Bishan Singh Bedi of India, the best slow left-armer ever to play in a patka, has gone to the great dustbowl in the sky at the age of 77. Condolences to his family and his many friends in the game.
45th over: Pakistan 221-5 (Shadab Khan 19, Iftikhar Ahmed 8) Matthew Hayden, on commentary, is just saying how hard it is to hit a soft ball on a slow pitch – "like trying to hit an orange" – when Iftikhar manages to swing Rashid into the crowd for six. "That's out of the orchard!" says Hayden. Nice recovery.
44th over: Pakistan 215-5 (Shadab Khan 19, Iftikhar Ahmed 2) The four-spinner policy has worked well, but Hashmatullah has to go back to seam now, so Naveen returns. His first ball is a freebie on the pads that goes for four leg-byes but the rest of the over is tight – two singles, four dots.
43rd over: Pakistan 209-5 (Shadab Khan 18, Iftikhar Ahmed 1) After picking up the wicket of his opposite number, Hashmatullah can sniff blood in the water. He gave Noor two slips for his final ball, and now he has a slip in for Rashid. He hasn't taken a wicket today, but he's gone for only one boundary in 54 balls: 9-0-35-0.
Noor Ahmad finishes with 3-49
42nd over: Pakistan 206-5 (Shadab Khan 16, Iftikhar Ahmed 0) It was a rather weary last over from Noor, but he has taken the three big wickets and he deserves them for his fearless personality as well as his wristy skill. At 18, he looks a wonderful prospect: Afghanistan cricket may well have found its second superstar.
WICKET!! Babar Azam c Nabi b Noor 74 (Pakistan 206-5)
Babar finally hits a six – and then perishes! It's a poor ball from Noor, but it does the trick as a flailing cut shot produces only an easy catch at extra-cover.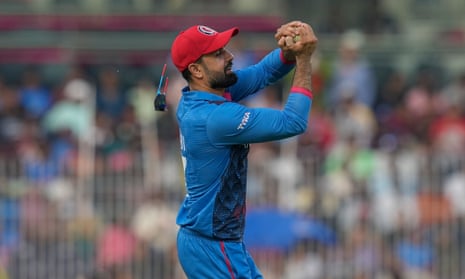 41st over: Pakistan 196-4 (Babar Azam 65, Shadab Khan 15) Babar has got the message at last. He pulls Rashid for two, then tries to flat-bat him for six – and gets only a single as Noor Ahmad, at long-on, comes flying in, risks a broken tooth, and makes a terrific take on the half-volley. The kid is a star.
40th over: Pakistan 191-4 (Babar Azam 61, Shadab Khan 14) Afghanistan are probably the worst fielding side in the World Cup, but they are sharpening up now. Babar, facing Noor, is tied down by two good stops in a row on the off side. Frustrated, he goes for a big pull, gets an edge, almost plays on and could be caught behind – but the ball ends up in the groin of the keeper, Ikram Alikhil. Happily he's smiling, not wincing.
39th over: Pakistan 189-4 (Babar Azam 60, Shadab Khan 13) Babar hits a four! Mujeeb feeds him a long hop, possibly thinking it's a safe bet, and he manages to shovel it into the gap to the left of deep square. That's Babar's first boundary for several years 47 balls.
38th over: Pakistan 183-4 (Babar Azam 55, Shadab Khan 12) Back comes Noor. He's oozing confidence, telling his elders where to stand in the field. The batters are finding the singles, five of them in this over, and Babar even tries a big shot – a lofted sweep, too half-hearted to go for six or even four. Off these last 12 overs, he needs to get 60.
37th over: Pakistan 178-4 (Babar Azam 52, Shadab Khan 10) Hashmatullah, always keen to keep a bit of Rashid up his sleeve, brings back Mujeeb, who gets worked around for four singles and a two. "He's been good, Babar," says a commentator. No, he hasn't! After starting in fourth gear, he's got stuck in second.
36th over: Pakistan 172-4 (Babar Azam 49, Shadab Khan 6) That was Mohammad Nabi's last over. His final ball goes for three as Shadab whips it past him, but it's still been a majestic spell: 10-0-31-1.
Milestones usually get an exclamation mark on the OBO, but I'm sorry, Babar just doesn't deserve one. Except for this: he hasn't hit a four for 38 balls!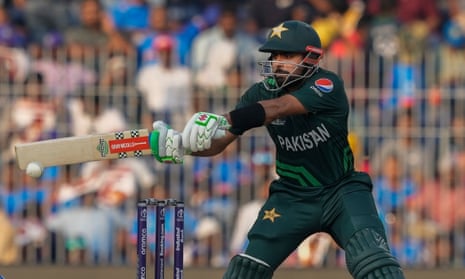 35th over: Pakistan 167-4 (Babar Azam 49, Shadab Khan 2) Babar, still uncertain against Rashid, almost plays on as he pats the ball down into his crease. He may not feel any more comfortable on being joined at the crease by Shadab, whom he had just dropped and only brought back when Mohammad Nawaz fell ill this morning.
34th over: Pakistan 163-4 (Babar Azam 47) Shakeel had just played his personal shot of the day, a reverse sweep for four. But then he takes one liberty too many, when Pakistan have mostly been playing too safe. Half the blame for that wicket rests with Babar, who has been so passive since his perky start.
WICKET! Saud Shakeel c Rashid Khan b Mohammad Nabi 25 (Pakistan 163-4)
Just when he was getting on top, Shakeel miscues a big hit and chips a simple catch to deep mid-on.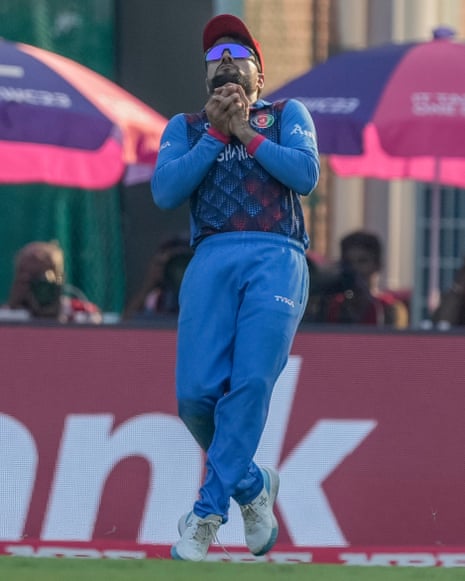 33rd over: Pakistan 158-3 (Babar Azam 46, Saud Shakeel 21) Hashmatullah gets the message about his prodigy needing a rest and brings back his main man, Rashid. He bowls one bad ball, giving Shakeel the chance to cut for four, with a little help from a misfield. Shakeel, so shaky at first, is settling in now.
32nd over: Pakistan 151-3 (Babar Azam 44, Saud Shakeel 16) Newsflash. Pakistan have hit a four! And Mohammad Nabi has conceded one! After seven overs of superlative accuracy, he drags the first ball of this over down and allows Saud Shakeel to get hold of the pull. Nabi keeps calm and goes back to dishing up dots and the odd single, but his figures have taken a tiny dent: 8-0-21-0.
31st over: Pakistan 145-3 (Babar Azam 43, Saud Shakeel 11) Hashmatullah opts to keep Noor on even though he is visibly tiring. He bowls another wide and then a no-ball, but Babar has been treading water for some time now and he can only sky the free hit into the hands of the man at midwicket.
30th over: Pakistan 139-3 (Babar Azam 41, Saud Shakeel 9) Anybody remember Flat Jack Simmons? Mohammad Nabi is bowling like Jack in his portly pomp. He now has seven overs, none for 15, and unless my memory is playing tricks all of those 15 have come in singles. Fabulous.
29th over: Pakistan 137-3 (Babar Azam 40, Saud Shakeel 8) The batters can't hit a four to save their lives at the moment. Instead they set about collecting some singles, which goes quite well. Noor bowls his worst over so far, including two wides, one of which bobbles away for two byes. After six overs, two for 26, it's time for Hashmatullah to give him a breather.
28th over: Pakistan 128-3 (Babar Azam 38, Saud Shakeel 5) Hashmatullah, having some fun with his hand of four spinners, decide to save up five overs of Rashid Khan (5-0-16-0) and bring back Mohammad Nabi. He is just as economical now as he was earlier, going for just two singles.
27th over: Pakistan 126-3 (Babar Azam 37, Saud Shakeel 4) Another good over from Noor, who has Babar Azam, usually so serene, bottom-edging a cut like an absolute beginner. I take it all back about the middle overs, which have suddenly gone from boring to bewitching.
26th over: Pakistan 124-3 (Babar Azam 36, Saud Shakeel 3) Shakeel, living dangerously, gets an inside edge to Rashid Khan which would be the classic spinner's dismissal, if only there were a short square leg. Off the past five overs, Pakistan have scraped 17 for two. Great stuff from Afghanistan.
25th over: Pakistan 120-3 (Babar Azam 35, Saud Shakeel 0) Now Noor has a left-hander to bowl at, which makes for an even trickier ballgame because he can pitch in the rough. He thinks he's got Saud Shakeel LBW first ball, and Hashmatullah reviews – less wisely this time, as the contact was outside off. Noor appeals again next ball, also in vain, but he's on a roll with the figures to prove it: 4-0-15-2.
WICKET!! Rizwan c Mujeeb b Noor 8 (Pakistan 120-3)
Another one for Noor! He persuades Rizwan to sweep at one that is too far outside off stump and yields only a simple catch to the man on the 45. Noor has now removed both the form players in the Pakistan top order. Teenage kicks, all through the night.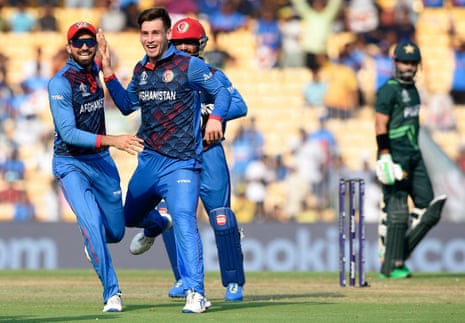 24th over: Pakistan 118-2 (Babar Azam 33, Mohammad Rizwan 7) Rizwan, such a resourceful operator, sees the need to get back on top here. After a few dots, he surprises Mujeeb by pulling out the slog-sweep and hitting a six.
23rd over: Pakistan 110-2 (Babar Azam 33, Mohammad Rizwan 0) After bamboozling one in-form batter, Noor promptly beats another as Rizwan pushes down the wrong line. That's a fabulous over from an 18-year-old. And a strange innings from Shafique, who took charge early on and then went into his shell.