Pakistan v Bangladesh: Cricket World Cup 2023 – live updates | Cricket World Cup 2023
Key events
15th over: Pakistan 86-0 (Shafique 39, Zaman 45). Shakib brings himself on, needing to conjure something, anything, from somewhere, anywhere. His flighted, reasonably accurate stuff keeps Zaman quiet for three balls before a couple of singles are milked, though they briefly entertain running two for one of them, a frankly daft idea given Shafique's earlier cramp. And that's drinks.
14th over: Pakistan 84-0 (Shafique 38, Zaman 44). Mehedy returns as Bangladesh resort to spin again. It can't stem the tide though, Fakhar advancing and clobbering yet another SIX high over long-on. Another single ensues.
Pakistan need from 122 from 36 overs – but do stick around for more NRR-fun.
13th over: Pakistan 77-0 (Shafique 38, Zaman 37). Abdullah Shafique is a sublime batter – again using his masterful timing to pump Mustafizur over mid-on and following it up with an effortless clip through midwicket for four. But he can do brawn as well as brain, and he soon muscles a pull across the line for a third boundary of the over.
12th over: Pakistan 65-0 (Shafique 26, Zaman 37). Even though it'll almost certainly be a dead rubber, I am kind of looking forward to England v Pakistan. Both are still chock-full of (largely out of sorts) entertainers so anything could in theory happen. Back in this game, the definitely not out-of-sorts Shafique demonstrates some of that entertainment value by straight-driving Shoriful gloriously for four. More alarmingly, he then goes down with cramp and needs attention. After a delay and some physio, the batter is ready to continue. And when play resumes, Fakhar Zaman upper-cuts a forensic and brilliant SIX, properly Gilchrist-esque. Pakistan can do their NRR some favours here.
11th over: Pakistan 54-0 (Shafique 21, Zaman 31). Mustafizur continues, but he's not getting much by way of movement and swing. Like Echo and the Bunnymen, he's sparing us the cutters, which brought him some success against the Dutch, until he tries one that turns out to be a low full-toss. But it's an economical enough over.
10th over: Pakistan 52-0 (Shafique 20, Zaman 30). The early potential of the Bangladesh attack appears to have been nullified as the ball begins to age. The last over of the powerplay begins with Zaman tickling a wayward one from Shoriful down to fine leg for four. A couple of singles ensue. Pakistan in little danger at the minute. And they had Bangladesh at 37 for 3 at this stage.
"What civilians call The Bends (over 7) is known to the Royal Navy subsea-minded as The Staggers," John Starbuck informs us landlubbers, "a much more accurate description of England's form."
9th over: Pakistan 46-0 (Shafique 20, Zaman 25). A pace for pace exchange, with the potentially dangerous Mustafizur replacing Taskin Ahmed. But Fakhar is purring now, and he cracks him through the covers for four more. Another flicked single keeps Pakistan well on top of the rate.
8th over: Pakistan 42-0 (Shafique 20, Zaman 20). For all that Bangladesh have bowled OK, the foundations for a cruise to victory are being laid here. Mehidy has a big shout for lbw against Fakhar but his captain, Shakib, disabuses him of the notion. It looked worth a look though – possibly clipping leg stump? – though replays suggest not. Fakhar then cashes in with his second SIX – again one that soars way over anyone in the front 10 rows, this over deep midwicket.
7th over: Pakistan 33-0 (Shafique 19, Zaman 12). Taskin v Fakhar again, who clobbered him for that epic six in the previous over. He has another legside swing, which isn't too far off being held by Litton Das in the deep, diving forward athletically. They run one, bringing to the strike Abdullah, who demonstrates just what sort of his form he's in with another delicious flick through midwicket for four – all poise and timing, no need for belligerence.
"It has occurred to me that England's most recent crushing defeat might simply be the darkest hour before the dawn?" writes Kim Thonger. "On the other hand we might actually be so far underwater, in a very deep part of an enormous ocean, that light can no longer penetrate that far down, and we are doomed to an icy airless eternity of oblivion? Just thought I'd lighten the mood." Yeah we've got the bends at this stage, if I may risk ushering in more of the Radiohead-riffing that has pockmarked the OBO during this World Cup. But England fans have been Let Down for sure.
6th over: Pakistan 28-0 (Shafique 15, Zaman 11). Spin into the attack with the always watchable Mehidy Hasan Miraz, who like so many of his teammates has not quite fired at this tournament. He starts well enough though, with some handy variations, but when he loops one up a little too obviously and too short, Shafique swats it to the square-leg boundary.
5th over: Pakistan 23-0 (Shafique 11, Zaman 10). Is Fakhar Zaman finding his form finally? Taskin tests him with an offside yorker but the left-hander digs it out well enough, and then finds his range with a searing swipe over midwicket for SIX high into the stands. It was a reasonably accurate delivery too. The next – cracked towards extra-cover – would have been four more but for a fine diving stop. Taskin responds well with a deceptive slower delivery on off-stump but the batter negotiates it.
4th over: Pakistan 16-0 (Shafique 11, Zaman 3). The ground isn't full but there's a pretty full-throated atmosphere, mostly behind Bangladesh, and the fourth over begins to a cacophany of fireworks from somewhere. Fakhar tucks Shoriful through the legside for two, and it prefaces Shoriful's first wayward delivery, a wide sprayed down leg. The bowler then has a wildly optimistic lbw shout aginst Fakhar, who runs a leg-bye while the bowler's making it. More frustration for the bowler ensues, as Shafique clips his next ball with supreme timing through midwicket for four. There's nothing too wrong with the bowling but decent batters can score swiftly on this surface.
3rd over: Pakistan 6-0 (Shafique 5, Zaman 1). Bangladesh's seamers have started decently, finding the right not-quite-full lengths and Taskin rips a rising snorter past Shafique's edge. He's a fine bowler and it's another maiden.
2nd over: Pakistan 6-0 (Shafique 5, Zaman 1). The medium-fast Shoriful opens the bowling at the other end. He finds some decent early movement too against the returning left-hander Fakhar Zaman, who swipes inelegantly at thin air against the final ball of the over, which is a tidy maiden. Bangladesh need wickets to win this but parsimony can help.
1st over: Pakistan 6-0 (Shafique 5, Zaman 1). These are potentially seam/swing-friendly evening conditions, as Taskin takes the new ball to see if he can do owt with them. His first ball suggests yes, speared in and shaping away to beat Abdullah Shafique outside off. The batter is off the mark with a needlessly risky run following a push through the offside. If Shanto had hit, he'd have been gone, and Shanto is suitably annoyed with himself. The opening pair are undettered and snatch a similarly dicey run next ball. Shafique then creams a drive through the covers for four, which is a bit more like it. Pakistan are up and running and ahead of the required rate. Not a bad over from Taskin, mind.
The players are on their way out at this storied and atmospheric stadium, Bangladesh's huddling on the edge of the outfield first.
Some reading – Jonathan Liew on an English disease:
For any seasoned watcher of English sport, this is a familiar pattern: the cathartic triumph, the parade and associated tie-in merchandise, the inevitable decline. The men's Ashes winners of 2005 became the whitewashed carcasses of 2006-07. England's rugby union World Cup winners of 2003 disintegrated pretty much overnight, leaving a swathe of after-dinner bookings in their wake
Cheers Daniel. Afternoon/evening everyone, for Pakistan's chase. Bangladesh have been a big disappointment in this tournament – sure, you might not have them pegged as semi-final candidates, but they brought plenty to the 2019 tournament and were excellent eight years ago, and their form this calendar year hasn't been too shabby. But with Shakib out of sorts – though he showed some old glimmers earlier with the bat – and the batting over-reliant on Mahmudullah rescuing the top order, they've fallen horribly short. They've not been much cop at defending targets either and have only Shoriful Islam, in 20th, in the top 20 wicket-takers of this World Cup.
But it's been a seamer's game so far, this, so let's see. In the meantime, we can kick back and watch this Wasim Akram homage on Sky or continue the crisps chat, whatever. (Coming from a family of ready-salted puritans, I need to take my exotic crisp pleasures elsewhere, when I'm in the office canteen or wherever, when it's go big(gleswade sweet chilli) or go home – what is it about Biggleswade's micro-climate?). Anyway, on my telly, Wasim has just ripped through England at the MCG in 92, scaling heights that this current Pakistan side have fallen a fair way short of.
And with that, my watch is over. Tom Davies will be here shortly to coax you through what, if Pakistan pakistan, could still be a tense chase. But from me, it's peace out.
This isn't over – batting won't, I don't think, get easier, nor are Pakistan that good at it. But they should have enough to get home, the bowling of Shaheen Shah Afridi, and Mohammad Wasim with the old ball, too good for Bangladesh, the batters who got in unable to make something definitive. Litton Das gifting his wicket was a turning point – he's only just finished walking back from the middle – and Shakib also got himself out. He now needs a monumental effort in the field
Bangladesh set Pakistan 205 to win!
WICKET! Mustafizur b Wasim 3 (Pakistan 204 all out) He's done it again! This is great stuff, the tail in at pace far too good for Mustafizur; a yorker bounces from boot onto stumps, and Babar will be delighted with how this has gone.
45th over: Bangladesh 204-9 (Mustafizur 3, Shoriful 1) In comms, Waqar reckons Wasim's ball is swinging more than Afridi's – but of course you've still got to control it and get the ball in the right place. He's got a tilted seam-position, good pace and a slingy action, the expert tells us, so his deliveries swing late; meantime, this latest over cedes just three singles. But back to more general chat, Waqar suggests moving to one ball after, say, 30 overs, so it gets older and we reintroduce to the game a skill that's been far less influential in recent times.
44th over: Bangladesh 201-9 (Mustafizur 1, Shoriful 0) A tremendous over from Wasim, two wickets and two clean-bowleds which might just've broken the back of this match,
WICKET! Taskin b Wasim 6 (Bangladesh 201-9)
He's done it again! Again, Wasim finds reverse, this time relying on movement away to defeat the batter, who tries to shove it down the ground only to be defeated by the movement through the air, missing as his stumps are splayed behind him. Big trouble for Bangladesh.
44th over: Bangladesh 201-8 (Taskin 6, Mustafizur 1) Mustafizur goes to pull then flicks to square leg for one.
WICKET! Miraz b Wasim 25 (Bangladesh 200-8)
Waqar, it turns out, knows a thing or two about cricket and Pakistani bowlers. He said Wasim was better with an old, reversing ball, and shonuff he gets one to tail in, whizzing past Miraz's mow across the line and slamming the top of off, knocking it out of the ground.
43rd over: Bangladesh 200-7 (Miraz 25, Taskin 6) Yup, Afridi returns and immediately Taskin flicks one slanted down leg. Rizwan takes the catch but when the appeal is rejected, says it was pad so there's no review. A leg bye follows, then Afridi, coming around to Miraz, narrowly defeats the outside edge; a further single follows.
42nd over: Bangladesh 198-7 (Miraz 24, Taskin 6) I wonder if Babar will bring Afridi back soon, trying to finish this innings as soon as possible rather than keep his main man for the final push. Either way, though, this match has already shown us one reason Pakistan are struggling: they're under-powered in the bowling department, a situation emphasises as I type; after the first two balls of Usama's final over go for three, then Miraz goes inside-out over cover for four, and Babar can't let these last eight overs be milked like that.
41st over: Bangladesh 191-6 (Miraz 17, Taskin 3) Iftikhar returns for his final over and cedes three singles to finish with figures of 1-44 off his 10.
"Crisps for cricket picnics," begins Alison Griffiths, reading me like she wrote me. "I love your OBO coverage but can't understand how you have overlooked the umami perfection of Walkers Marmite crisps. What genius invented those?"
I've not tried these. A few overs ago, John Starbuck mentioned the ultra-processed nature of crisps, and Walkers have made their regular stuff healthier and therefore less tasty. I'm sure this is nothing to do with Sensations, left to their own devices, being dearer. Anway, I'm not a Marmite fan and wonder if these have enough bite for me, but also, I'll be off the newsagent soon as I'm done here.
4oth over: Bangladesh 188-7 (Miraz 17, Taskin 3) Taskin gets away with two to fine leg, Wasim doing well to prevent the boundary, then a single to point means he retains strike. With so many overs still remaining Bangladesh, and Miraz in particular, have a lot of work to do.
WICKET! Shakib Al Hasan c Agha Slaman b Rauf 43 (Bangladesh 185-7)
He did his best, but when you're not there you're not there, and Shaklib's struggles against the short stuff continues – which probably makes this delivery sound better than it is. It gets a little big on the batter but not with any menace, he just gets under it but with his feet in the wrong position, he can't impart the necessary power, instead offering midwicket a dolly– that's almost, but not quite dropped.
40th over: Bangladesh 185-6 (Shakib 43, Miraz 17) Nas trails an interval feature with actual Wasim, one of my all-tie favourite bowlers – not many have had the magic ball, the stock ball, the variety, the leftiness, the temperament and the dirty action in their armoury. Anyway, Rauf returns and his first two balls yield two singles…
39th over: Bangladesh 183-6 (Shakib 42, Miraz 16) Mohammad Wasim returns and Babar will hope he can exercise a little control; Afridi has just three overs left and, if we're honest, he's the only bowler who's really threatened. Shakib takes one to third then Miraz tries a tickle to fine leg; Rizwan does really well to stop on the dive.
38th over: Bangladesh 182-6 (Shakib 41, Miraz 16) Suddenly, Shakib looks confident at the crease, his movements more positive and definitive. And after four singles, Miraz wants some of the action, takeing a step – it's more of a stomp actually – down the track, slamming a slog-sweep over cow for six! Terrific shot making it 24 off the last two overs, the partnership is 42 off 39.
37th over: Bangladesh 172-6 (Shakib 39, Miraz 8) Iftikhar returns and Shakib is in now! He deposits the loosener over cover for four, follows it with a thundserous sweep for four more, then have a look! A glorious dvie over the top makes it three fours in three balls, and has the Bangladesh skipper played his way into form in front of our eyes? Fourteen off the over, and this is a really good contest.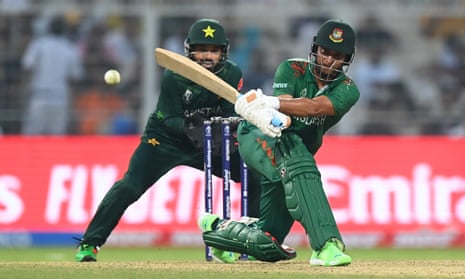 36th over: Bangladesh 158-6 (Shakib 26, Miraz 7) Pakistan need to take care, because if these two are still at the crease with, say, 10 to go, Bangladesh still have scope to set something challenging. So for now they're just building, a two and two singles keeping things moving.
"I rarely indulge in crisps because they're junk food (or UPFs as we have to say these days)," says John Starbuck. "But when I do, it's always McCoys Flame-grilled Steak but only when paired with a Melton Mowbray pork pie. All the other exotic flavours leave me indifferent."
My wife really enjoyed Chris van Tulleken's book on the UPF topic and I try and stay away from such things to stat alive, but meaty crisps tend not to do it for me. I want sharpness of flavour.
35th over: Bangladesh 153-6 (Shakib 23, Miraz 5) Rauf returns but Miraz looks in decent touch and he eases a single to cover, then Shakib takes two to the same region. A further single follows, and both sides are allowing this to drift now. Bangladesh can't afford to take risks, while Afridi looks Pakistan's only reliable strike bowler.
34th over: Bangladesh 149-6 (Shakib 20, Miraz 4) I wonder if Babar is regretting his omission of Nawaz, who'd be very useful right about now. Instead, though, Usama rattles through another over, ceding four singles, and Bangladesh will be lowering what they deem an acceptable total to around 230, I reckon. Good luck (with that plan i just imagined) lads.