Australia v Netherlands: Cricket World Cup 2023 – live | Cricket World Cup 2023
Key events
4th over: Netherlands 28-0 ( Singh 21, O'Dowd 6) Woah Nelly! O'Dowd sells Singh down the Rhine with a terrible call for a single but Hazlewood misses with his shy at the stumps to give the Dutch a let-off. Just the one (kamikaze) run off the over.
3rd over: Netherlands 27-0 ( Singh 21, O'Dowd 5) There are no demons in this Delhi pitch, Singh gets a leading edge on a length ball from starc, the ball lands safe and races away to the boundary. Starc pulls back his length but offers width, Singh throws the Kitchen sink at it (reckon he's a Poggenpohl kind of guy) and the ball flies off a thick edge for four more. Perky response from the Dutch. Starc goes up for an lbw appeal but the ball was sliding down leg.
Any thoughts on this game or the World Cup/Cricket in general? You can Email or tweet @Jimbo_Cricket – the OBO mailbag is open.
2nd over: Netherlands 18-0 ( Singh 13, O'Dowd 5) Brilliant response from the Netherlands to come out punching in Delhi after that Maxwell onslaught. O'Dowd throws his hands at a wide one from Hazelwood and gets an under edge for four. Nothing spawny about a brace of boundaries from Singh though – he stands on his tippytoes and punches Hazlewood through the covers for four… next ball he repeats the stroke and this one is even better – the ball scorching to the fence. Game on!
1st over: Netherlands 4-0 ( Singh 4, O'Dowd 0) Vikramjit Singh defends the first ball from Mitchell Starc, Max O'Dowd leans on his bat at t'other end. Starc looks full of pep and is steaming in with two slips in place. Five dots stitched together by Starc before Singh clips a full ball on his pads through mid-wicket for a sublime four! The Dutch are underway – 99 more of those should do it!
"Till one by one, they were gone"
The flipside:
Mick Lewis presumably about to have his best night of kip in 17 years…
More Maxwell Stats courtesy of Geoff:
The players are readying themselves on the boundary edge, the tv has just shown highlights of Andy Bichel scything through England at the 2003 World Cup. Teenage me can hardly watch.
Thanks Jonathan, top work covering the mayhem and genius of the final ten overs! Hello everyone, Jim here to lead you through the Dutch response, just the small matter of 400 runs needed for the lads in orange.
The stattos across the globe are duly working themselves into a numerical lather over that record-breaking innings. Here's one that just caught my eye – from the err Beautiful Mind of Daniel Norcross (I'm fairly certain he will have pinched it…)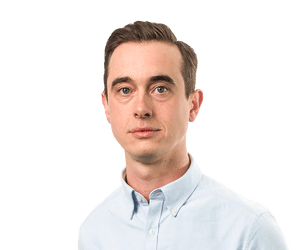 Jonathan Howcroft
It needs stating at the outset of this half-time round-up that the Netherlands didn't bowl badly, never lost their heads, were captained astutely, and fielded as well as you could ever imagine in such conditions. And still they find themselves chasing 400.
There are two main reasons for that: David Warner and Glenn Maxwell.
The former anchored Australia's innings after Pat Cummins won the toss and made a measured 104 from 93 deliveries. It was an innings of bursts of runs and passages of calm from the veteran who laid the foundation for the carnage that followed. Around him Steve Smith (71) and Marnus Labuschagne (62) looked in decent touch and Mitch Marsh (9) fell early.
But Australia slipped from 244-2 to 290-6 and instead of cantering towards 400 the target became much more modest. Until Maxwell fulfilled his cricketing destiny with a 40-ball century – the fastest in world cup history by nine balls! And he did so with some of the most outrageous shots you could ever see on a cricket field. It was a joy to witness. In seven overs his partnership with Cummins was worth 103 runs and turned a contest into a work of performance art.
Bas de Leede bore the brunt of the damage, ending his 10 overs with figures of 2/115 – a new record for the most expensive spell in world cups. But, given time, I'm sure even he will appreciate the role he played in one of the most astonishing passages of cricket in the sport's history.
And with that, it's time for James Wallace to take control and see you through the Dutch run chase. Catch you soon.
Netherlands require a round 400 in Delhi for victory.
50th over: Australia 399-8 (Cummins 12, Zampa 1) Cummins clubs the final ball of the innings for four.
WICKET! Starc c Ackermann b van Beek 0 (Australia 393-8)
Two in two for van Beek! Starc has to go the tonk but he can only spiral a top edge that Ackermann does well to hold onto in the Delhi night.
WICKET! Maxwell c Engelbrecht b van Beek 106 (Australia 393-7)
Fittingly, Maxwell gets to exit on his own terms, launching another mighty blow, this time close enough to the superb Engelbrecht, who runs around and pouches a sliding catch inches from the fence.
49.3 over: Australia 393-6 (Maxwell 106, Cummins 8) Even the mishits are going to the rope. Maxwell fails with the reverse lap but the back of the bat still deflects the ball beyond the keeper and away for four. That's the century partnership off just 43 balls.
100 for Glenn Maxwell (40 balls – new world cup record)
49th over: Australia 389-6 (Maxwell 102, Cummins 8) Maxwellball is life. De Leede begins his over bowling full and straight so Maxwell belts him back down the ground for consecutive fours. Then he marmalises a slower ball over midwicket for six, and helps a legside full toss out of the ground for six more! Carnage! Carnage on a historic scale! 4/4/6/6… what's next? Six more! Another full toss helped over square leg. The fastest world cup century – and by a massive margin – beating Aidan Markram's mark of 49 set just a few days ago. This is staggering. Maxwell removes his helmet, holds his arms wide and soaks up the adulation. This is the coming together of everything he's been promising his entire career.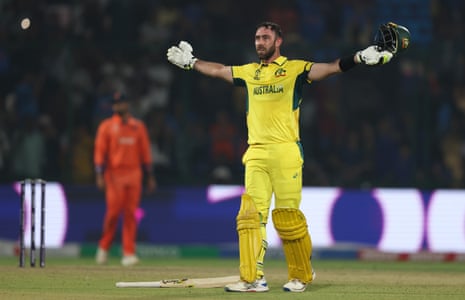 48th over: Australia 361-6 (Maxwell 75, Cummins 8) Van Beek has the unenviable task of coming into the attack to play the role of cannon fodder. Maxwell welcomes him by standing his ground and hoiking a six over cow corner. Cummins then joins in the fun, but fortunately, miscuing a slog that O'Dowd could have gone for on the full coming in off the midwicket fence, but instead he hesitated and missed the half-volley. Maxwell is soon back on strike, stepping to leg and carving another improbable six over backward point. It's like watching a computer animation. How does he do this?
Maxwell 75 off 35!
47th over: Australia 340-6 (Maxwell 61, Cummins 3) Ha ha ha ha ha ha ha. Maxwell repeats that switch hit over point, only this time he middles it miles into the crowd. How do you bowl to that? 50 up for the magician off just 27 deliveries.
Good lord, now he's hit the same shot but as a pull! Mid-leap! That was a crunching six with the ball almost on his grille! This is performance art.
46th over: Australia 325-6 (Maxwell 46, Cummins 3) Drink it in people, this is vintage Maxwellball. After exchanging singles with his skipper, the Victorian switch-hits an outrageous one-bounce four over what was point. Then he stands his ground and heaves a six over square leg. Van Meekeren retains his composure to see out the over with minimal further damage.
45th over: Australia 312-6 (Maxwell 34, Cummins 2) De Leede mixes up his length and pace to deny Australia a boundary. Maxwell still manages to push the score along with a leaping ramp outside off stump that is hauled in just short of the rope.
44th over: Australia 305-6 (Maxwell 30, Cummins 0) Gorgeous delicate late cut for four from Maxwell to begin van Meekeren's ninth over. He then fails to connect with a couple of swipes, before a borderline wide bouncer makes it three dots in a row. Another mighty swipe from Maxwell skews off the outside edge and miles into the Delhi sky. Will it land in a fielder's hands? Almost! Teja Nidamanuru was up in the ring at mid-off and he couldn't make enough ground stumbling backwards and diving forlornly.
43rd over: Australia 297-6 (Maxwell 22, Cummins 0) Maxwell keeps the momentum flowing with an improbably fine sweep for four. A couple more follow then a rotation of strike. Cummins just has to face one delivery, and van der Merwe knows the Australian skipper isn't going to be interested in anything flash, so he tosses up a full wide delivery for the No 8 to chase. Cummins takes the bait, misses the ball, and Edwards claims a catch behind the stumps. The Dutch skipper takes an age deciding if he should REVIEW or not. Cheers greet the T signal but it doesn't take long for Rassie Erasmus to figure out there was no bat involved.
WICKET! Green run out (Engelbrecht) 8 (Australia 290-6)
The Netherlands roll the dice by bringing on the experienced left-arm spin of van der Merwe with Australia going the tonk. Green gets off strike with a single, then gets run out next ball, failing to reach his ground after turning for a tight second. It required a direct hit from the fielder screaming in from midwicket, but that's exactly what Engelbrecht did! Astonishingly good fielding all day by the Netherlands.
42nd over: Australia 288-5 (Maxwell 14, Green 7) Van Meekeren replaces van Beek but while the names may change the game remains the same. Full and straight from the Netherlands, and driven back from whence it came by Maxwell and Green. Only one blow reaches the fence though as the Dutch fielding continues to impress.
41st over: Australia 282-5 (Maxwell 9, Green 6) The Netherlands continue bowling full and straight, and Australia continue trying to belt boundaries down the ground. And this over they accomplish their goal. Green and Maxwell punch fours through the non-striker, then the latter opens the blade and pierces the field near extra-cover.
40th over: Australia 268-5 (Maxwell 0, Green 1) Excellent dedication from the Netherlands, sticking to their task in the field despite the runs Australia have been piling on. Van Beek backs up his wicket with a series of dots to Green who repeatedly tries and fails to clatter length deliveries forward of square.
"Can't help feeling that a chasing team '… won by 5 wickets …' in limited-overs matches is a bit meaningless," emails Will Wroth. "When the constraint is number of balls faced, '… won by 3 overs …' makes more sense. In 2-innings games wickets really is key, as if you run out of time, it's a draw, but not in 50/20-over contests.
Yesterday's Bangladeshi win over Pakistan is a case in point: we were only waiting to see if they would get the runs in time, and weren't interested in wickets once they got towards the finishing line. My brother Charles agrees, suggesting that ' ... reached the target with 1.2 overs to spare (and 8 wkts in hand) …' would be much more descriptive of how they actually did it. Waddyathink?"
What I think, Will, is that cricket is an inherently stupid exercise, and applying logic to it is a fools errand.
WICKET! Warner c Dutt b van Beek 104 (Australia 266-5)
Two in a row for the Netherlands! Warner gets down on one knee and tries that ramp slog that worked so well against Pakistan. He doesn't get all of it though and Dutt holds on at fine-leg despite his vision being obscured by the floodlights. Another sparkling knock from the Australian veteran, but his dismissal leaves his side needing to rebuild late in the piece.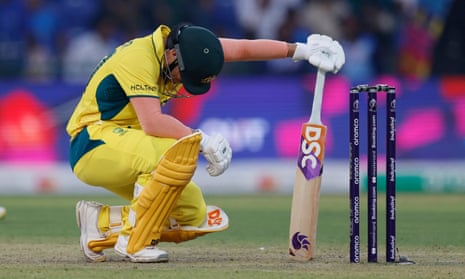 WICKET! Inglis c Engelbrecht b de Leede 14 (Australia 266-4)
Inglis aims the same whip-crack pull that he executed to such devastating effect in the previous over, but this time he can only pick out the midwicket sweeper. Inglist will be disappointed he didn't cash in with plenty of runs on offer but such is the life of a late-over slogger.
39th over: Australia 266-4 (Warner 104, Maxwell 0)
38.5 over: Australia 266-3 (Warner 104, Inglis 14) Warner: single. Inglis: single. Warner: four! A sixth world cup hundred for David Warner – only Rohit Sharma has more.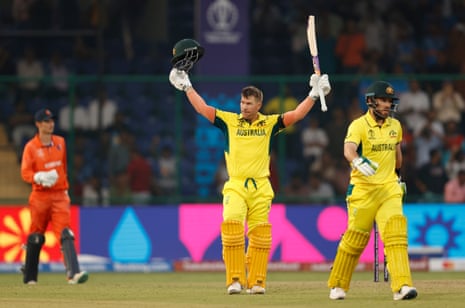 38th over: Australia 259-3 (Warner 98, Inglis 13) Canny from Inglis, guiding van Beek behind point for an early single to bring Warner onto strike. The crowd senses the moment, but the Australian veteran calmly taps away a single, happy to delay the inevitable. And we're all grateful he did because back on strike Josh Inglis belts one of the most vicious shots I have ever seen. Wow! Just short of a length from van Beek and Inglis gets his hands through a whipped pull so quickly the ball is in the stands before the TV director can cut to a wide angle. Stunning. Further singles are exchanged but still not century for Warner. He will be on strike at the start of the next over though.
37th over: Australia 249-3 (Warner 96, Inglis 5) Josh Inglis comes out at No 5 and he gets into his work quickly, pulling a de Leede bumper for four with excellent control. A single from the final deliver denies Warner the strike and the opportunity to bring up his ton. Warner has now faced just 87 of his side's 222 deliveries.
WICKET! Labuschagne c Dutt b de Leede 62 (Australia 244-3)
Labuschagne perishes in search of quick runs, skewing a length cross-seamer from de Leede straight to Dutt at mid-on. Handy knock from the No 4 but probably not enough to save his spot from the returning Head.
36th over: Australia 244-2 (Warner 96, Labuschagne 62) Edwards makes the latest of myriad bowling changes this innings, recalling Dutt. Labuschagne responds by becoming the first Australian to leave his crease all afternoon, coming down the track and spanking a mighty straight six. He follows that up with a deft paddle sweep for four. Australia's run-rate will soon climb over 7 rpo for the first time today.
35th over: Australia 231-2 (Warner 95, Labuschagne 50) Labuschagne brings up his half-century with a single, after a hard-run two to start the over. De Leede then bowls full and straight to Warner, keeping him scoreless.
34th over: Australia 228-2 (Warner 95, Labuschagne 47) Labuschagne is starting to work through the gears after bedding in. A flat sweep just clears the boundary for six, then two very fine glances run away for four – one to fine leg, the other just wide of the wicket-keeper on the off-side. For the second over in a row Labuschagne farms the strike with a single, which made me check some stats. There have been 204 legal deliveries today, of which Warner has only faced 81. I wonder if this has been accidental or by design?
33rd over: Australia 213-2 (Warner 95, Labuschagne 32) De Leede comes back for his second spell after proving costly earlier, and he begins by inviting Warner to pound a half-volley through the covers. He's then unfortunate to see a good delivery edged to third for four by Labuschagne. There was a suggestion it could have hit the Australian's pad, not bat, so Edwards invites the third umpire to take a closer look. THE REVIEW reveals a very clear and very crucial edge.
32nd over: Australia 203-2 (Warner 90, Labuschagne 27) Van der Merwe comes back into the attack. Australia show plenty of intent against his left-arm spin but yet again find a well-set field and dynamic Dutchmen in their way.
31st over: Australia 199-2 (Warner 88, Labuschagne 26) Since the mayhem of half-an-hour or so ago it's all felt a bit middle-overs, with rhythmless action and a distracted crowd. But Labuschagne's wristy pull off van Meekeren deserves everyone's full attention. That was a textbook boundary.
"While I agree that Smith's petulance is highly irritating," begins John Starbuck, "you have to look at it in the round. Come the day when he's on the chat show and after-dinner circuit he'll be known as 'a character' because of such traits. How many fearsome players have you heard of who didn't appear to revel in their reputation, once they retired?" Just as long as his booking doesn't include him singing and playing the guitar.
30th over: Australia 192-2 (Warner 87, Labuschagne 21) Labuschagne eats up a couple of dots before punching Dutt away for a single. A TV graphic indicates its been 20 minutes since the last boundary. Maybe the Australian saw it, because he extends his arms and sweeps powerfully for four immediately afterwards – the first proactive stroke for a while.
29th over: Australia 185-2 (Warner 86, Labuschagne 15) Van Meekeren replaces van Beek and he quickly goes short to Warner to reprise the strategy that looked promising much earlier in the day. That's followed up by a lovely loopy slower ball, then a change of angle, shifting from around to over the wicket. Excellent, skilful, thoughtful bowling.
28th over: Australia 180-2 (Warner 83, Labuschagne 14) Australia struggle to get Dutt away. The run-rate has been over six for most of the day, but fireworks have been scattered rather than sustained.
27th over: Australia 176-2 (Warner 82, Labuschagne 11) The Netherlands continue to field like their lives depend on it. They have been inspirational in the ring this afternoon. Van Beek is the bowler who benefits from the latest sharp stop at point, and he channels that intensity by slipping in a bouncer that crashes onto Labuschagne's lid. The batter is unhurt but there's a delay for a change of helmet.
26th over: Australia 173-2 (Warner 80, Labuschagne 10) Labuschagne has looked busy straight away at the crease and he adds to his ones and twos with a delightful reverse sweep for four.
"Getting tired of Smith's petulance," emails Ross McGillivray. "When does standing at the wicket shaking the head and then walking off shaking it some more count as dissent? I hope that If a kid did it in junior cricket he would be spoken to sternly by his coach, but Smith seems to be untouchable."
25th over: Australia 166-2 (Warner 79, Labuschagne 4) The pace of van Beek is recalled to the attack and he hits good areas to keep Australia watchful.
24th over: Australia 162-2 (Warner 78, Labuschagne 1) Phew! It's all happening out there. Five deliveries, two brilliant pieces of fielding from van der Merwe, two appeals, one given. The upshot is Marnus Labuschagne has plenty of time to demonstrate he should not make way for the returning Travis Head.
WICKET! Smith c van der Merwe b Dutt 71 (Australia 160-2)
Oh boy. Is Smith out now? He tries to cut the returning Dutt but he can't beat point, who springs from the ground celebrating a catch. It's van der Merwe again! It's low, awkward, close to the fielder's right ankle, and this time surely he's taken it cleanly and kept his fingers underneath the ball through his momentum. The third umpire agrees! That was superb fielding again from the Netherlands.
Smith, shaking his head, has to trudge off, with that trademark look of disgust on his face.
23rd over: Australia 158-1 (Warner 77, Smith 69) Smith gets in on the whole six-hitting lark, hooking a de Leede bouncer over fine leg. He didn't get all of it, but the fielder was nowhere near a catch on a short boundary. The follow-up is a better shot, but worth only two-thirds of the value, with a clip off his pads that bisects the two men sweeping on the legside. Strike rotated, Warner continues the onslaught, bullying de Leede through midwicket with disdain. THEN HE'S OUT! WHAT A CATCH! The Netherlands have fielded superbly all afternoon and van der Merwe has made it count, flying to his right at short cover to pouch a ferocious drive.
Hmmmmm. He did catch the ball in mid-air like Superman, but as he landed the ball – clutched in his outstretched right hand – appeared to make contact with the ground. Not dissimilar to the Mitchell Starc one in the Ashes that everyone dealt with very maturely. For most of the history of cricket that was out, but the technology now means replays can isolate enough pixels to introduce doubt, the benefit of which goes to the batter. Another let-off for David Warner, who pounds a four behind point for good measure.
That was quite the over.
22nd over: Australia 139-1 (Warner 69, Smith 58) Warner greets van der Merwe to the crease for his second over by whomping a six, with the spin, in his arc, miles over cow corner. That was pure. Just a couple of singles from the following five deliveries.
21st over: Australia 131-1 (Warner 62, Smith 57) Bas de Leede, wearing the No 5, is bowler number seven for the Netherlands. And his opening over of right-arm heavy balls banged on a length goes for seven, more than half of which come from a typical Smith whip into the on-side.
20th over: Australia 124-1 (Warner 60, Smith 52) Roelof van der Merwe is the sixth man into the Netherlands attack. Australia work his left-arm finger spin comfortably for five straightforward runs.
19th over: Australia 119-1 (Warner 58, Smith 49) Nice bowling from Ackermann, restricting Australia to singles with his changes of pace and angles of attack.
18th over: Australia 115-1 (Warner 56, Smith 47) Make that two sixes for David Warner. Following that run-out reprieve he looks like he's had enough of occupying the crease and takes Singh downtown for a clean maximum, following it up with a crisp four along the same line, then a muscular crunch through the covers off the back foot. The man is a world cup run machine. My advice to any teams playing Australia is to get him out when they have the chance.
Singh's figures no longer deserve highlighting.