Bangladesh v Sri Lanka: Cricket World Cup 2023 – live | Cricket World Cup 2023
Key events
10th over: Bangladesh 57-2 (Shanto 14, Shakib 7) Chameera is looking like a real handful already, and he closes his second over with a jaffa that nips away from Shakib.
"Angelo Mathews being timed out today has reminded me of when David Steele made his debut in 1975 at Lord's against Australia," writes John. "On his way out to the crease, he famously went down two flights of stairs instead of one and finished in the toilets. Presumably if the letter of the law had been applied, Steele would have been timed out and never gone on to become BBC Sports Personality that year!"
9th over: Bangladesh 54-2 (Shakib 6, Shanto 13) Shanto shows some initiative to skip down the pitch to Madushanka, flicking through the leg side for four.
8th over: Bangladesh 48-2 (Shanto 8, Shakib 5) Dushmantha Chameera is into the attack, and he's on the money until his final ball of the over, with Shakib pulling away for four.
7th over: Bangladesh 43-2 (Shanto 7, Shakib 1) Shakib is in – get Angelo on now! Madushanka sends in a bumper and Shakib fends at it awkwardly, but the ball lands safely on the leg side.
WICKET! Das lbw Madushanka 23 (Bangladesh 41-2)
Madushanka strikes again! He goes full, swings it in and nails Das on the toes. The finger goes up, and there's no need to review it.
6th over: Bangladesh 41-1 (Das 23, Shanto 6) Kasun Rajitha enters the game and unleashes a pearler, moving the ball away from Das to beat the outside edge. The batter responds well, though, pulling the next ball all the way for six! And then another big hit! Das goes down the pitch and smacks straight for another six, but he's also hurt himself while doing that. Looks like he's cramped up in his right calf. It's all happening here in Delhi. After a pause in play, Das resumes, taking a single with his next delivery.
The latest banger being belted out on the ground sound system:
5th over: Bangladesh 28-1 (Das 10, Shanto 6) Madushanka is getting some laavely shape away from Shanto, the left-hander. Maiden. Just heard this tune being played at the ground – thoroughly enjoyable, would recommend.
4th over: Bangladesh 28-1 (Shanto 6, Das 10) Theekshana is too short, and Shanto punishes him with a cut for four. The spinner sorts his length out quickly and concedes just one from his next five balls.
3rd over: Bangladesh 23-1 (Shanto 1, Das 10) Madushanka, a raw, promising talent who keeps picking up wickets in this tournament, does get a bit of swing but doesn't mind dragging back his length too. And, just as I write that, he's denied a second wicket! It's a bouncer to Das, who pulls straight to fine leg where Kusal Perera should hold on – but doesn't. Instead the ball runs away for four. Meanwhile Das appears to have hurt himself while playing that stroke, so the doc comes out, but he's OK to keep on going.
WICKET! Tanzid c Nissanka b Madushanka 9 (Bangladesh 17-1)
Very loose from Tanzid. It's wide from Madushanka, and the left-hander throws the bat at it, but very unconvincingly. The ball flies high and Nissanka, in the cover-point region, holds on easily.
2nd over: Bangladesh 17-0 (Tanzid 9, Das 6) Theekshana takes the ball from the other end, and Das immediately flicks the ball behind square on the leg side for four. The spinner, getting some tasty drift into the right-handed Das, then concedes a wide and a couple of singles.
1st over: Bangladesh 10-0 (Tanzid 8, Das 1) Tanzid is the first man to find four, poking outside off and getting enough on it to travel over point. The next shot is more authoritative, with the left-hander skipping down the pitch to slap towards the long-on rope for another boundary.
OK, we're about to get underway. Mathews is having a chat with the umpire – I wonder what that's about. Dilshan Madushanka will open up for Sri Lanka, with Tanzid Hasan to face.
"You will cover more on Angelo Matthews than on the Bangladesh chase in all probability," writes krishnamoorthy v. "One Trevor Chappell is going to be sleeping well tonight."
I'll level with you – I absolutely despise getting bogged down in the whole Spirit of Cricket v Laws debate, especially when it comes to run-outs at the non-striker's end. It's a pain to read about on social media and, you know, there are just bigger things to worry about.
Thanks very much, Daniel. Well, I thought this was going to be a quiet one. Instead, I'm now eagerly looking forward to watching Angelo Mathews bowl to Shakib.
I've amended below, but in a late change, allow me to present to you Taha Hashim, here instead of Tanya for the chase.
Oh, Asalanka says he doesn't think the Mathews dismissal was good for the spirit of cricket, and that when he was batting he was looking for 300 but also thinks his team have enough
Righto, my watch is over; Taha Hashim will be with you presently to commandeer the chase. Peace out.
Sri Lanka set Bangladesh 280 to win!
Few than it should've been, fewer than it looked like being … but probably enough.
WICKET! Chameera run out (Mushfiqur) 4 (Sri Lanka 279 all out)
Madushanka misses his pull, they try a single, and the keeper does the rest.
50th over: Sri Lanka 279-9 (Chameera 4, Madushanka 0) Shoriful will bowl the final over and Chameera top-edges its second delivery; they run one.
WICKET! Rajitha c Das b Tanzim 0 (Sri Lanka 278-9)
Another testing short ball from Tanzim and Rajitha can do nothing apart form pull. It's a decent effort too, Das taking a good catch running along the fence; he's not there, it's six.
WICKET! Asalanka c Das b Tanzim 108 (Sri Lanka 278-8)
Asalanka flays another short one high into the off side, and Das steps back to hold chest0high, on the point fence. What a knock that was, but, calm, composed and clean – exactly what his team needed.
49th over: Sri Lanka 278-7 (Asalanka 1o8, Chameera 3) Aslanka doesn't get all of a short one from Tanzim and they run a single, then another when Chameera's leading edge drops safe at square leg. With the centurion back on strike, Tanzim takes pace off … and Asalanka reads him, dropping deep in the crease to smite six over midwicket!
Charith Asalanka reaches his century!
48th over: Sri Lanka 270-7 (Asalanka 1o1, Chameera 2) Chameera grilles a single, then Asalanka misses with a pull before gloving over the keeper's leap for four. There's still plenty of juice in this track and the dew will have the ball skidding on for the Bangladeshi batters but for now, let's enjoy a Sri Lankan one, Asalanka forcing around the corner, hauling Chameera back for two, and that's his ton! He's batted superbly I must say, hitting so cleanly right from the start, and I'd be surprised if his knock isn't a matchwinner.
47th over: Sri Lanka 262-7 (Asalanka 94, Chameera 1) Some batters trust the tail and others don't; Asalanka seems to be in the former camp, flicking two to midwicket before taking a single and leaving his partner four balls to attack; they yield a solitary single to long on. I'm sure he'll get to his ton in the remaining three overs, but time is ticking.
WICKET! Theeksana c sub (Nasum) b Shoriful 22 (Sri Lanka 258-7)
A well-directed short one gets big on Theeksana, who ramps and gets a bit too much of the ball, picking out the man on the fence at deep third.
46th over: Sri Lanka 258-6 (Asalanka 91, Theeksana 22) Shoriful returns and after a leg bye and a single, Theeksana – increasingly comfy at the crease – absolutely chleanses him through cover for four.
45th over: Sri Lanka 252-6 (Asalanka 90, Theeksana 17) Shakib returns and concedes three singles off the first five balls; can Theeksana find a boundary off the the sixth? He cannot, a single to cover point all he can mange, but I'd not be surprised if Sri Lanka enough runs already. Increasingly, though, it looks like the main aim is to bat through rather than throw the bat, which makes sense: it's unlikely Bangladesh are chasing 300, so it makes more sense to get that than aim for 340 and end up with 270.
44th over: Sri Lanka 248-6 (Asalanka 88, Theeksana 15) Asalanka middles one … and picks out the man at extra so Theeksana shows him harizdun, gloving a bouncer over the keeper's head for four! But he's hurt his hand – his bowling hand too, and immediately calls for the physio. I'm not surprised either, because looking at a replay, he properly tried to pull that, ramming bone rather than willow into cork. He'll be fine though, getting off strike with a thrash to the off-side sweeper – they run one – then Asalanka chases another, less well-directed bumper, helping it around the corner and over fine leg for six. A single follows, then Theeksana narrowly avoids edging behind, making it 13 off the over; Asalanka is playing a tremendous knock here.
43rd over: Sri Lanka 235-6 (Asalanka 80, Theeksana 10) Good work from Taskin, who goes short to Theeksana but on a tight line; his first three balls are dots. But he just about forces a slower one wide of midwicket, looking to sweep to fine leg, and Sri Lanka needed the four it brings; two more follow to third via opened face. Taskin finishes with 0-39 off 10, his opening spell very good indeed. Will Asalanka gets after it next over?
42nd over: Sri Lanka 229-6 (Asalanka 80, Theeksana 4) Tanzim repklaces Miraz, bowled out with 1-49 off his 10; a single to Asalanka, flipped to midwicket, then a wide, then another single to Theeksana, shoved to cover.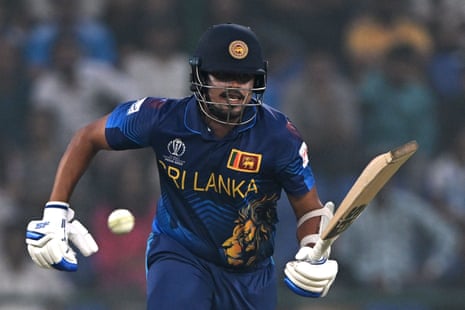 41st over: Sri Lanka 226-5 (Asalanka 79, Theeksana 3) Another economical over from Taskin – whose name makes me think of Tosker from Our Friends in the North every time I see it – three singles from it.
"Have just flicked on the OBO and seen the Mathews stramash," emails Andrew Benzeval. "Looking at it from a Bangladesh point of view, teams get penalised for failing to bowl their overs in time, so I can see why they would then appeal for that reason alone rather than wait minutes for him to fix it. Conversely, as Mathews appears to have been ready and then realised he wasn't, how is that different to a player making his guard and then, say, asking for sightscreens to be moved? Good job not more is riding on this one, I'd say."
It's different because it's player equipment, but I agree Mathews could probably have found a way of not having that happen to him – beyond checking his gear was good to go.
40th over: Sri Lanka 223-6 (Asalanka 77, Theeksana 2 )Thing is, Asalanka is middling everything, – most recently a cut for four to deep third – so why wouldn't he unload the suitcase, especially given 346 is the average score batting first in this competition; Three singles follow,
39th over: Sri Lanka 216-6 (Asalanka 71, Theeksana 1) Taskin returns with Asalanka on strike and the batter has a problem: does he try and score, or try and bat through? So far, it's the latter, three singles all the batters can manage.
"There has always been tension between these two sides," reminds Arul Kanhere. "There was the infamous 'Naagin – dance celebration' which roughly means dancing like a snake that Bangladesh employed and then SL Cricket uploaded India's jailbreak of a run-chase against Bangladesh from the same competition – in which a lot of Lankans were cheering for India.
This is just adding fuel to fire and, well, I want to see a Mankad now coz why not?
WICKET! De Silva st Mushfiqur c Miraz 34 (Sri Lanka 213-6)
Bangladesh needed that! De Silva wanders way down, Miraz drags down, and the batter can't introduce bat to ball, caught so far down Mushfiqur has time to fumble before breaking the stumps. The umpires want to check the ball was in his gloves at the time, but it's fine.
38th over: Sri Lanka 213-5 (Asalanka 69, De Silva 34) A single, then De Silva sweeps four.
37th over: Sri Lanka 208-5 (Asalanka 68, De Silva 30) Four singles, then Dhananjaya backs away towards leg and gets right underneath the ball, larruping the returning Shakib over midwicket for six! A forward defensive follows, and 10 off the over leave Sri Lanka in a strong position – but add two wickets and they're in all sorts, which is to say this match is beautifully balanced.
36th over: Sri Lanka 198-5 (Asalanka 66, De Silva 22) Miraz returns and will take the two singles he concedes. The batters, though, look in decent control out there; and I imagine they'll open shoulders before long – they'll want another 100, at least.
35th over: Sri Lanka 196-5 (Asalanka 65, De Silva 21) Taskin replaces Tanzim and sends down an economical over, one from it, then De Silva stands and delivers, waiting to dismiss a short, full one from his countenance, for four through midwicket. The partnership is 61 off 64, and so far the dismissal of Mathews has worked quite nicely for the Lankans.
"He was in fact ready to bat, THEN noticed his strap,' writes Peter Metcalfe. "Three minutes normally, two minutes in the World Cup, but irrelevant as he was ready at some point."
Also, Shakib is hardly Patrick Patterson. Face one ball, then deal.
34th over: Sri Lanka 191-5 (Asalanka 64, De Silva 17) Shoriful replaces Miraz, ceding two singles and a wide. Back to the spirit thing, I don't buy that the players have a responsibility to the game – the game is fine. Rather, the responsibility is to themselves, and they made the choice that they wanted to win regardless. De Silva then takes two to backward point and though the throw breaks the stumps, a review reveals he was well back.
33rd over: Sri Lanka 186-5 ( Asalanka 63, De Silva 15) I'm enjoying Asalanka a lot, and he pulls Tanzim's first ball to square leg for four, then aborts a quick single; with a direct hit, he was in trouble. Instead, though, he waits for one and cuts behind square on the off side for four, and I don't know what I'd do if I was him: on the one hand, he needs to stay in, but on the other, everything he hits is staying hit. And have a look! After a single, De Silva goes to pull a bouncer and top-edges four more, a single follows, and that's 14 from the over, the fifty parthership raised . There's scope for a big score here, but Bangladesh will doubtless be plotting a handled ball or hit-ball-twice dismissal for their next trick.
32nd over: Sri Lanka 172-5 ( Asalanka 54, De Silva 10) Below is the law in question; imagine the fury in the Long Room! What a shame SJ Broad wasn't somehow involved, bets he's bristling somewhere in the world. Miraz twirls through his seventh over, three singles from it, and quietly, because we're all still debating the Mathews dismissal, Sri Lanka are setting for an onslaught – but they really mustn't lose another wicket.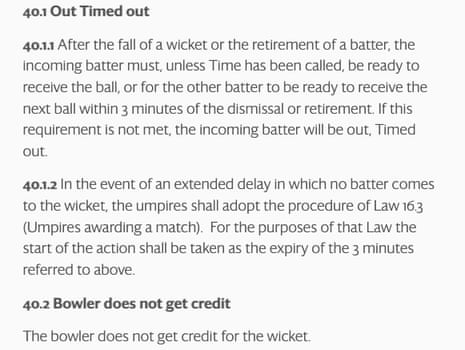 31st over: Sri Lanka 169-5 ( Asalanka 52, De Silva 9) Two singles, then Asalanka – who is seeing and timing it gorgeously – steps down, then flicks a pull for four, raising his fifty in the process. He's looked in flow from the moment he arrived at the crease, his hitting so clean. Drinks, and I daresay if I was Shakib, I'd be checking mine for goz and such.
"Players have numbers rather than names on their shirts/jerseys for several reasons," says John Starbuck. "1) Some names are too vast to be squeezed into the space available; 2) Some names are duplicates of other players' (especially considering the dynasties which do exist here and there); 3) It makes it easier to refer to them on scoresheets and some scoreboards, especially unfamiliar players; 4) Some people just prefer numbers to deal with, which is despicable.
However, I do wonder why, in the Test series, the player numbers are their own preference or a deliberate joke (like Root 66), yet there is a standard way of numbering them i.e. their rank in order of all Test players for their country, which tends to appear on caps or as a shirt 'badge'. Why this isn't the best option I do not know, though I suppose it's apposite if playing with non-Test members in other competitions."
I guess because the numbers are too high, on which point is it just me who calls Jimmy Anderson Taryag, the Hebrew way of expressing 613 – his number, and also the number of commandments in the Bible.
30th over: Sri Lanka 162-5 ( Asalanka 46, De Silva 8) We learn that the MCC laws allow three minutes but the playing conditions stipulate two; that was the reason for the delay in Mathews' dismissal. De Silva runs four to deep third, the only runs from the over, and this partnership is away.
"Shaqib obviously didn't read your preamble to the game," returns Andrew Cosgrove. "'and, if nothing else, today is a chance to enjoy while we still can the terrific Angelo Mathews'."
On the contrary, he's done it to spite me.
29th over: Sri Lanka 158-5 ( Asalanka 46, De Silva 4) Had Mathews faced one ball without a helmet, or borrowed Asalanka's, could he have then waited as long as it took to get another? We see the footage again and it seems the strap broke, which doesn't seem a good reason for a wicket; I know Shakib's side have to bowl their overs within the time, I'm enjoying the rancour and the laws are the laws, I'm a little surprised he wasn't allowed to sort the issue because who wants the aggravation of winning like that? Asalanka drills two to cover then coaxes four down the ground, and he is now the key man.