England v New Zealand: Cricket World Cup 2023 opener – live | Cricket World Cup 2023
Key events
3rd over: New Zealand 19-1 (Conway 10, Ravindra 8) Curran nearly does it again in the field – needing a direct hit to run out Conway, he misses by a whisker. Woakes, tighter for the first half of this over, loses his length again: a half-volley is whipped for four, a bouncer pulled for four more. Good start by Rachin Ravindra, who comes to India under a little bit of pressure – he was named after both Rahul Dravid and Sachin Tendulkar, who is in the house today.
"Game of two ends at the moment," says Nasser Hussain. Snap!
2nd over: New Zealand 10-1 (Conway 10, Ravindra 0) England's Powerplay was a game of two ends, with Boult taking none for plenty while Henry ruled the roost. Same here so far: Sam Curran starts with a wicket-maiden. So maybe leaving out Topley was a masterstroke.
WICKET! Young c Buttler b Curran 0 (NZ 10-1)
Strangled! Curran's first ball is shaping as a wide, but Will Young gets an inside edge and Jos Buttler does the rest.
1st over: New Zealand 10-0 (Conway 10, Young 0) The first ball of the innings goes for four! It's too full from Woakes and Devon Conway has only to lean on it to send it skimming past cover point. Same again four balls later, but through extra cover. NZ conceded just 27 boundaries in 300 balls. As the cameras find an eggy sunset above the ground, the question is: can England get close to that?
The new ball is in the hands of the great Chris Woakes. If anyone can match Matt Henry for accuracy and movement, he can.
Afternoon everyone and thanks Rob. It looks as if England won the first six balls – perhaps under the impression that they were going straight to the Super Over – and New Zealand won the rest. Matt Henry, Mitch Santner and Glenn Phillips were magnificent, taking seven for 102 between them. England could regret leaving out Reece Topley. They brought six seamers to India and yet picked only three here.
As Clint Eastwood by Gorillaz blares round the Narendra Modi Stadium in Ahmedabad, I'll hand over to the great Tim de Lisle for the runchase. Thanks for your company and emails – bye!
(And yes, there will be a Super Over if it's a tie.)
"Good afternoon Rob," writes Krishnamoorthy V. "My friend Ganesh shared an interesting trivia on another name. Rachin's father named him Rachin as he could not decide between Rahul and Sachin, both his favourites. It's as interesting as it gets, if true."
That's great. Wonder what would have happened if his heroes were Derek Pringle and Dermot Reeve.
Here's something to read during the break
Glenn Phillips speaks
Ah, we were absolutely brilliant today. They got off to a flyer but we pulled it back and to get ourselves a target of 283 was very pleasing.

I was always going to get a few overs to the left-handers, and thankfully they went well today. We've got plenty of options and Tommy used them really well.

I thought the pitch played really well. There was a bit of a nibble early on but I think it will get better as it goes on. We're very pleased to keep England below 300.
Joe Root top-scored with 77 from 86 balls. Nobody else reached fifty, and the key moment was when Matt Henry dismissed Jos Buttler for an intimidating 43. Every time England threatened to get away, they lost a wicket.
Henry and Mitchell Santner were the pick of the New Zealand attack, but Glenn Phillips' spell of 3-0-17-2 was vital.
Statgasm alert! For the first time in ODI history, men's and women's, all 11 batters reached double figures.
50th over: England 282-9 (Rashid 15, Wood 13) Jimmy Neesham will bowl the last over. He has a good slower ball – it was only last month that he bowled Jofra Archer at the back end of the World Cup final – and you'd expect him to use it here.
An errant delivery scuttles past Latham for two wides, and then Rashid belts the aforementioned slower ball over midwicket for six. It was a bit too full; as Simon Doull says on commentary, the slower balls into the pitch have been much harder to play.
England take a single off every other delivery, which makes it 14 from the last over. That's a decent finish for England, with Rashid and Wood adding 30 for the tenth wicket, but New Zealand, who bat very deep, remain favourites.
49th over: England 268-9 (Rashid 7, Wood 10) Boult finishes an increasingly good spell with figures of 10-1-48-1. There were no boundaries, just the usual singles. England know the last over will be bowled by either Neesham or Phillips, so they are saving the big shots for that. And in the meantime they've added 16 handy runs.
The commentators think dew will be a factor at the back end of the New Zealand innings, which makes them even bigger favourites. I'm not sure England are quite as below par as we think, because pace-off has been more effective as the innings has progressed. But a wet ball would make that much tricker.
48th over: England 263-9 (Rashid 5, Wood 7) Matt Henry, who set the one with a majestic new-ball spell to Dawid Malan and reasserted it with the pivotal wicket of Jos Buttler, bowls his final over.
Rashid and Wood again settle for lowish-risk accumulation, five runs this time. Henry finishes with 10-1-48-3.
47th over: England 258-9 (Rashid 4, Wood 3) Rashid and Wood, who were both out without facing a ball in that 2019 final, work Boult for four singles.
All nine of the England batters who have been dismissed got into double figures, which can be read one of two ways: England are doomed; or, It's Coming Home!
46th over: England 254-9 (Rashid 2, Wood 1) It feels like England are short, though I suppose a lot of peoople were saying the same thing as this stage of the 2019 final. They'd certainly love Mark Wood to hit 24 off eight balls, as he did in the Ashes.
WICKET! England 252-9 (Curran c Latham b Henry 14)
Curran tries to cut a slower short ball from Henry and thin edges it through to Latham. That's another triumph for Latham – not the wicketkeeper, the captain. It's the sixth time a new bowler has struck in the first over of a new spell, and Latham's field placings have also been imaginative and aggressive.
45th over: England 250-8 (Curran 13, Rashid 0) Mitchell Santner finishes with 10-0-37-2. He didn't concede a single boundary.
"Looking at the list of England men's batters in Asia is striking," writes David Horn. "For those of us of a certain age, 2005 feels like yesterday – and when Kevin Pietersen entered the fray it felt like he changed the game. He could absolutely marmalise an attack and he played shots that nobody else did/could, and he was both the catalyst for the success that summer (bringing him in – and dropping Thorpe as a result – felt slightly risky) and the leader of a new vanguard forging different ways to bat.
"And yet. And yet now, it feels like batters are overtaking him daily in terms of style, panache and impact. The Morgans, Buttlers, Roots – as well as the Brooks, Livingstones, etc. (and that's just from England) rewrite the coaching manual as part of their day job. I don't know what my point is, but maybe it's this: cricket is astonishing. It's evolution has accelerated hugely in the last 18 years, across all formats. In 2005 I thought I'd never watch a more exciting batter than Pietersen – but I was dead wrong."
In many ways they're all his children. Not literally, David. My feeling is that pound for pound, and also partly because of age, he'll always be the most exciting England player I've seen. I suspect if I listed the ten most giddily euphoric liveblogs I've written in (gulp) 19 years at the Guardian, five or six would be Pietersen innings.
I didn't explain that very well – too much going on.
WICKET! England 250-8 (Woakes c Young b Santner 11)
Mitchell Santner finishes a marvellous spell with the wicket of Chris Woakes. He has varied his pace and line all day, and this one was slower and wider. Woakes couldn't resist and sliced it high to backward point.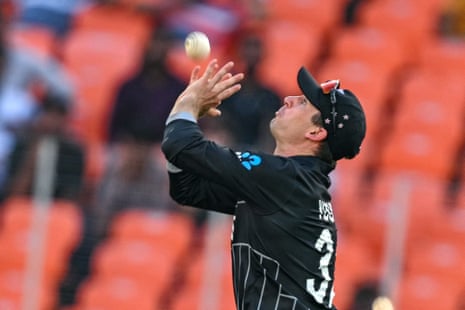 44th over: England 247-7 (Curran 11, Woakes 10) A long hop from Phillips is pulled efficiently round the corner for four by Woakes.
43rd over: England 239-7 (Curran 9, Woakes 4) As we said earlier, England's ostensibly strong lower order was surprisingly ineffective in 2019. They need them now. Curran and Woakes are building for the last few overs, and Ravindra again gets through an over unscathed. He finishes with figures of 10-0-76-1. Not a good day, but the wicket – Harry Brook – was vita
42nd over: England 235-7 (Curran 7, Woakes 2) Root played expertly to make 77 from 86 balls. But like pretty much all his teammates, he picked a stinking time to get out.
"That innings by Root is exactly the kind of thing Jonathan Trott was publicly flogged for (well, metaphorically) ten years ago!" writes Dave Voss. "I never got the #trottsfault criticism – there was so much to criticise about that England team, it feels odd that it centred on someone scoring quite a lot of runs at quite a decent lick."
I agree that Trott was unfairly maligned, though I don't recall it happening too much during the 2011 World Cup. From memory he kept England in many games, certainly against South Africa and Sri Lanka. But it was a long time ago, so I may well be talking balderdash.
WICKET!" England 229-7 (Root b Phillips 77)
Glenn Phillips does it again! He was brought back with Curran in mind but instead dismissed Root first ball. Root shaped to reverse sweep but the ball was far too full and he was yorked between his legs. Phillips has figures of 1.1-0-3-2, career-best figures at that.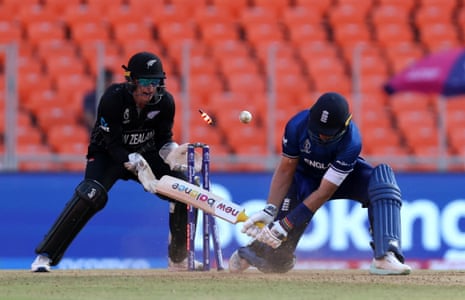 41st over: England 229-6 (Root 77, Curran 3) At last, a bit of peace for Rachin Ravindra. Curran isn't ready to go downtown, Root needs to bat through, so there are five singles from the over. And no boundaries.
"Good afternoon Rob," writes Krishnamoorthy V. "Heights of resisting temptation: Liam Livingstone's parents not naming him Jonathan!"
His middle name is Seagull though.
40th over: England 224-6 (Root 74, Curran 1) Another crafty over from Santner yields only three singles. New Zealand are on top, though they still need to find five overs from their fourth and fifth bowlers. Unless they bowl England out I suppose.
39th over: England 221-6 (Root 72, Curran 0) Sam Curran pushes his first ball straight to a fielder to complete a wicket maiden from Trent Boult. He wasn't at his best with the new ball but since then he's been excellent, as figures of 5-1-18-1 in that time would suggest.
WICKET! England 221-6 (Livingstone c Henry b Boult 20)
Yep, Liam Livingstone has got out at an inopportune moment. After four successive dot balls from Boult, a frustrated Livingstone chipped a knuckle ball straight to long on. That's not a great shot in truth, too impatient, but it was superb bowling. That's a very useful wicket given Livingstone's capacity for bish-bosh at the death; he goes for 20 from 22 balls.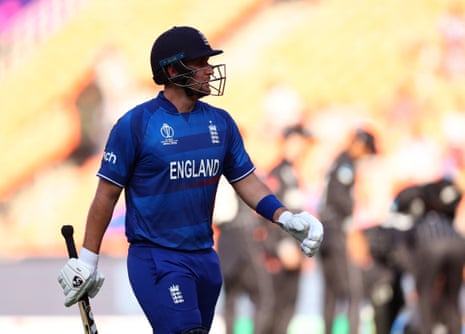 38th over: England 221-5 (Root 72, Livingstone 20) Neesham replaces Ravindra, who has taken a lot of hammer todya. Mind you, Neesham has taken a fair bit and Livingstone crunches him past backward point for four more. He looks in good touch. All the right-handers have, in truth; they just keeping out at inopportune moments.
"I read your entry in the 30th over as Trent Reznor, which would certainly put a different spin on cricket coverage," writes Matt Dony. " But, in the ongoing spirit of crowbarring niche musical defences into OB's; the World Cup is underway, and We're In This Together now. A good start today, and England are Closer to a defence of their crown, although heaven knows they've traditionally specialised in Hurt, with assorted batters turning into Mr Self Destruct. A victory would be the Perfect Drug. (Couldn't find a way to use the magnificent March Of The Pigs.)"
Since you asked so nicely, here you are.
37th over: England 214-5 (Root 71, Livingstone 14) Root brings out the reverse scoop again, this time to get four off Henry. The boundaries are nice but it's the ones and twos that have made thigs innings so good. There are few players in world cricket who could – or would even want to – make 71 from 76 balls in an ODI with only five boundaries. Joe Root is one of them. Across formats, and with a respectful nod to Sir Alastair Cook, I'm not sure there has ever been an England batter in Asia. Here's the list.
36th over: England 208-5 (Root 66, Livingstone 13) Any thoughts on a par score? Instinct says around 300-320, but then instinct also said to do that thing we don't talk about.
Santner returns and is treated with more respect: one two, three singles. He hasn't conceded a boundary in eight overs.
35th over: England 203-5 (Root 62, Livingstone 12) New batter or no new better, England keep going after Ravindra. Livingstone touches a full toss to fine leg for four and then mauls a short ball over deep midwicket to bring up the 200. Twelve from the over.
34th over: England 191-5 (Root 60, Livingstone 2) Henry has bowled ever so well today: 7-1-33-2.
33.3 overs: England 188-5 (Root 59, Livingstone 0) Henry greets Liam Livingstone with a terrific short ball that clonks him on the helmet. There's a break in play while he is checked for concussion; Livingstone smiles broadly as he answers the necessary questions.
WICKET! England 189-5 (Buttler c Latham b Henry 43)
Matt Henry has broken the partnership! He roars with delight, knowing this could be the key moment of the entire game. Buttler opened the face but was cramped for room by a good delivery and thin edged through to Latham. He goes for a stylish 42-ball 43, and New Zealand edge ahead once more.