Liverpool v Everton: Premier League – live | Premier League
Key events
GOAL! Liverpool 2-0 Everton (Salah 90+7)
Liverpool have countered so often today, with little by way of end result. But now look. Mac Allister nicks the ball off Chermiti on the right-hand corner of the D. He pokes clear for Nunez, who barrels down the middle. Liverpool are two on one, with Salah to his right. Nunez rolls a perfect pass to Salah, who opens his body and lashes into the top right. Pickford did his best, but had no chance.
90 min +6: Szoboszlai dances his way out of a tight spot on the left. He should feed Jota on the overlap, but opts to have a dig himself, having carved the opportunity out of nothing. He curls harmlessly high and wide right.
90 min +4: Liverpool counter from Everton's corner. Nunez and Salah execute a long-range one-two … only for Doucoure to stop Salah's gallop as the Liverpool striker reaches the edge of the box. He's put in an excellent shift today. A man-of-the-match performance, despite being on the losing side? Onana would have a shout too.
90 min +3: Danjuma causes some bother down the middle, forcing Van Dijk to concede a corner. Big chance for Everton to cause some trouble here. Garner to take.
90 min +2: Jota jinks his way down the inside-left channel and enters the box. He's got Nunez and Salah to his right, but opts to go for it himself instead. He lashes into the side netting.
90 min +1: That'll give Everton renewed spring in their step. The nerves all around Anfield are palpable, from both sets of fans.
90 min: He'd have had to give it up had this gone in. Elliott sends a vicious dipping shot towards the top right. Pickford extends fully to tip over sensationally. Nothing comes of the corner. There will be nine added minutes.
89 min: Some head tennis in midfield. In the technical area, Sean Dyche claps hard to encourage his men. He'll not have given this up yet.
88 min: Nothing comes from the corner. Everton swap Mykolenko for Chermiti.
87 min: … so having said that, Nunez goes on a barnstorming run down the left, tearing past Patterson and whipping a cross to the near stick. Branthwaite knows there's red shirts behind him, and has to intervene. He heads wide left, though his heart would have skipped a beat for a split second there.
85 min: Nunez chases after a couple of cute passes down the inside-right channel, and fails to control either. He was sensational against Brazil the other night. Not so much today.
84 min: Mac Allister drops deep on the left and sends a long diagonal towards Salah on the penalty spot. Pickford reads the danger wonderfully, coming off his line to claim confidently.
83 min: Liverpool ping it around in the clock-management style.
81 min: … while Gomez replaces Diaz. Alexander-Arnold then curls the free kick into the mixer. With Matip preparing to head home, Branthwaite eyebrows out for a corner on the left. Szoboszlai whistles the corner to Jota, who zips a header straight into the arms of Pickford. Just like Calvert-Lewin in the very first minute, had that gone either side of the keeper, it was a certain goal. The small margins, huh.
80 min: Mykolenko grabs a handful of Salah's jersey. Free kick out on the right. Before it can be taken, Onana is replaced by Danjuma …
78 min: Nunez attempts to combine with Salah down the right but Mykolenko holds his position. Goal kick. Nunez hasn't really contributed since coming on. But then we were saying this for a while when Liverpool visited Newcastle, too, and look what happened there.
76 min: Everton had defended so well, too. Everton coach Ian Woan is booked for saying his piece, no doubt regarding the Konate non-decision. "That first non-penalty seemed like a make-up call for not sending Konate off," argues Joe Pearson. "But they couldn't ignore the second. Yes, I do have a tin foil hat on. Why do you ask?"
GOAL! Liverpool 1-0 Everton (Salah 75 pen)
Nope! Salah absolutely lashes the penalty into the right-hand side of the net. Pickford goes the wrong way, but even if he guessed correctly, he was never stopping that. Liverpool lead!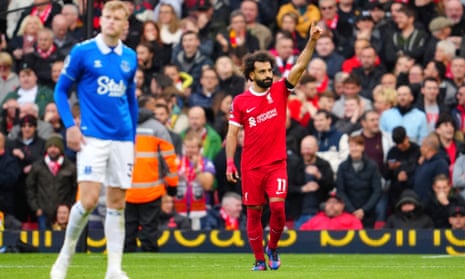 74 min: Craig Pawson trots over to the screen and makes the inevitable decision. Can Salah break the deadlock from 12 yards? Pickford has some detailed penalty notes on his water bottle. Will the data serve him well!
72 min: Diaz accelerates down the left, reaches the byline and crosses. The ball hits Keane's arm, which is hanging away from his body. The referee says it's just a corner. VAR will take a look … and sends the referee over to the monitor. Keane's arm was hanging out far enough for this to be given, I think. We'll see …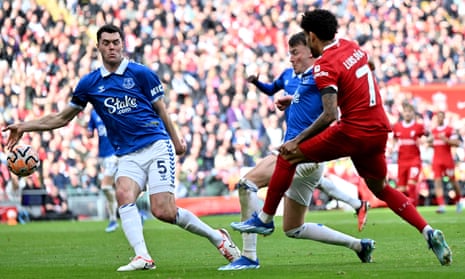 70 min: Diaz turns on the jets and nearly gets past Patterson. He goes over, and wants a penalty, but neither referee nor VAR shows interest. Diaz only hit Patterson while turning back into the Everton defender, so that seems about fair. No doubt there will be other opinions on the old internet.
69 min: Liverpool are probing, but Everton continue to stand firm. It's attack versus defence, and yet Pickford still hasn't been put to serious work this afternoon.
67 min: Nothing comes of the Liverpool corner. "I think Everton have a case for the referee not applying cards fairly," writes Rick Harris. "As a neutral I'd say the ref has ruined the game."
66 min: Nunez and Jota combine to win a corner down the left. Before it can be taken, Konate is replaced by Matip, which is as good an admission from Jurgen Klopp that his man has got away with one. Dyche is booked for making that exact point.
64 min: Konate puts his arm around Beto in the midfield. Beto goes down, and Everton demand a second yellow. Sean Dyche certainly wants it, and he jumps up and down with his arms waving in the manic style. But the referee doesn't think there's enough in it. Konate is a very lucky chap.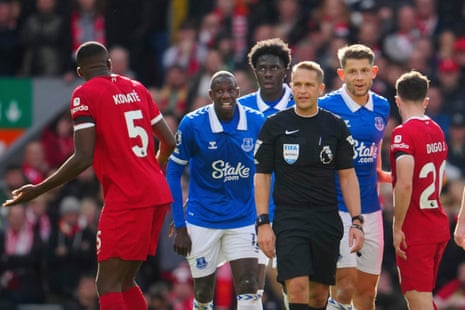 63 min: Diaz cuts infield past Patterson and flays an ambitious shot from distance high and wide right. No need for Liverpool to get this desperate yet.
62 min: Liverpool respond by swapping out Tsimikas and Gravenberch for Elliott and Nunez.
61 min: Calvert-Lewin is replaced by Beto.
60 min: Tsimikas crosses harmlessly from the left. Pickford plucks calmly. Anfield sighs and jeers. Everton are doing an excellent job of keeping the home fans quiet … and frustrated.
59 min: Everton are holding their shape nicely. Szoboszlai and Alexander-Arnold are dropping deep to probe, but to little effect. Salah cuts a frustrated figure.
57 min: Gravenberch pings a pass down the inside-left channel. Diaz chases it into the box. Onana ushers the ball out of play, but at the expense of disappearing over the hoardings behind the goal. At speed, too. Thankfully he's back up soon enough. That could have been nasty.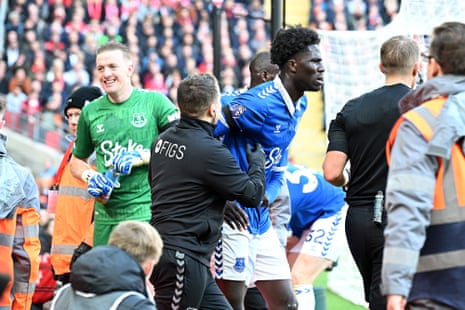 55 min: Onana wins a free kick in the middle of Liverpool's half. Everyone lines up on the edge of the Liverpool box. Garner floats it in. It's half cleared, then Garner has a swipe from the best part of 30 yards. That one's heading for the new, as-yet-unopened tier atop the Anfield Road stand.
53 min: VAR's not interested. Correctly so, because the ball took a deflection from close range en route to hitting Mykolenko's arm, which was hanging by his side.
52 min: Bedlam in the Everton box. Salah shoots. Tarkowski blocks. Gravenberch takes another whack. Tarkowski blocks again. Corner to Liverpool … and the ball rears up to hit Mykolenko on the arm. Liverpool scream for a penalty and VAR will look.
51 min: Konate is down after taking an accidental whack in the mush from Calvert-Lewin. There's no punishment, which is the correct decision, not that the home faithful agree. We play on.
50 min: Konate is booked for a cynical arm across Onana's shoulder, as the Everton man looked to break from deep.
49 min: Alexander-Arnold crosses deep from the right. Jota can't keep the ball in at the far stick. Goal kick, which Pickford takes his sweet time over. At least that got the crowd going; Anfield isn't exactly a cauldron of noise at the moment. The tension palpable.
48 min: This could be a long second half for ten-man Everton. Then again, against a Sean Dyche team set up to dig in, this could be a frustrating one for Liverpool. Let's see how it pans out, then.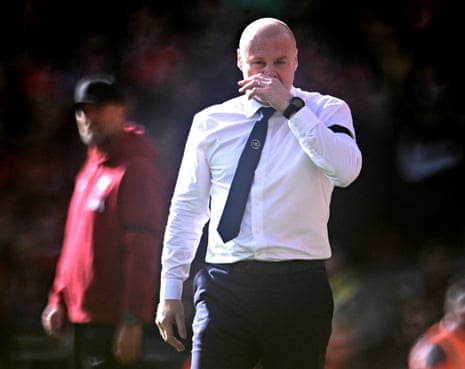 46 min: Gravenberch goes over Doucoure's leg in the Everton area, but carefully and in super-slow motion, and he's never getting that decision.
Liverpool get the ball rolling for the second half. Everton make a couple of changes, and it looks like they're lining up with five at the back: McNeil and Harrison are hooked for Keane and Patterson.
Our half-time postbag offers some hope for ten-man Everton. "Ashley Young's sending off for two yellows is the first for an opposition player against Liverpool since Sadio Mané, when he was still with Southampton in 2015," writes Rob Moore.
Matt Burtz adds: "Twice in recent years I've seen Everton nick a late victory with only ten men (away to Watford and home to Newcastle), so I'm actually not as discouraged by the red card as one might think. If Everton can dig in, stay organized, and not do anything stupid, you never know."
So Matt's boundless optimism may not be misplaced, because the match Rob refers to ended 1-1. Admittedly Mané wasn't sent off that day until the 90th minute, having equalised four minutes earlier, and Everton still have 45 minutes to negotiate, but make of that what you will.
HALF TIME: Liverpool 0-0 Everton
There's just enough time for Jota to go over in the box. He claims a penalty. Neither referee nor VAR has any interest in giving it. The whistle goes, with Doucoure and Jota bickering and Sean Dyche storming down the tunnel in a hot funk, having tapped his watch furiously in the assistant referee's face for no discernible reason. Passions running high, but this is the Merseyside derby after all.
45 min +1: Pickford launches long. Calvert-Lewin can't chest down to gain control. Had he managed it, he'd have been clear on goal. Alisson claims and Liverpool counter. Szoboszlai aims for the top right from distance, his dipper only just clearing the bar.
45 min: There will be a minimum of two added minutes. "Silly for Young to dive in when on a yellow but I think he can get hard done by for the first yellow considering Tsimikas made the exact same foul and wasn't booked," argues Samuel Campbell. Yep, you can certainly argue that Tsimikas should have gone into the book, but Young deliberately hung out a leg to stop Diaz for that first yellow, so he can't have too many arguments given his own actions.
44 min: Corner for Liverpool on the left. It's worked back to Alexander-Arnold, whose shot is blocked by the omnipresent Onana.
42 min: Tarkowski blocks Szoboszlai's shot with the contents of his special area. Ooyah, oof. He stays down, but Liverpool play on, Salah whistling a low cross through the six-yard box from the right. Nobody in red anticipates, and Everton take a breath again. So does Tarkowski, once everything descends back to its proper level.
41 min: Everton go up the other end. McNeil turns into space, 25 yards out, and hits a rising shot that's deflected over the bar. Alisson wasn't sure where that was going. Everton send the big guns up, but Alisson claims the corner with ease.
39 min: … Van Dijk sees his header deflected over the bar. Another corner coming in, this time from the right. Tsimikas takes. The ball is half-cleared to Alexander-Arnold, who creams a first-time shot inches over the bar from the edge of the D. Had that been on target, Pickford was never stopping it. That stayed hit.
38 min: Szoboszlai hits the free kick long. Alexander-Arnold picks it up on the other flank and forces a corner, from which …
RED CARD: Young (Everton)
37 min: Diaz dribbles hard down the left and drops a shoulder to get past Young, who slides in from the back, just outside the box. It's a second yellow and off he goes down the tunnel with a face on. He can't really have any complaints.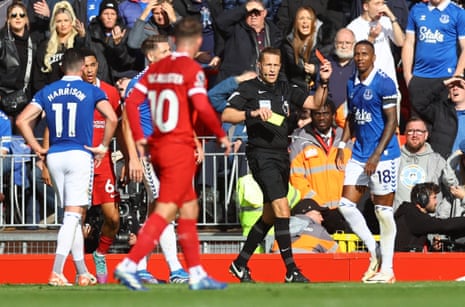 35 min: Alexander-Arnold launches long. Salah can't quite get on the end of the pass, Mykolenko heading into the centre. The ball doesn't quite drop for the lurking Jota, and Pickford gathers. Everton were all over the shop there, and Jota was very close to pouncing.
34 min: Mac Allister has a whack from distance. Pickford saves but spills, and is fortunate there's nobody in red following up the shot. The keeper gathers.
33 min: Mykolenko goes down, Jota having stood on the back of his heel. VAR checks and it's accidental. Happily there's no harm done and Mykolenko is back up and about soon enough.
32 min: Tarkowski is booked for clanking into the back of Szoboszlai.
31 min: Young miscontrols and the ball goes out for a throw. He kicks the ball into the crowd. He'll need to watch himself, already on a booking as he is.
29 min: Everton have quietened the home fans, which is stage one completed. Meanwhile here's Justin Kavanagh: "Football is too polite these days, with the dark arts being flushed out by the nanny state of VAR. Discuss. I was thinking this as I tried to imagine van Dijk keeping a little black book (or an untraceable app, I suppose) with Pickford's picture on it marked with today's date)."