New Zealand v Bangladesh: Cricket World Cup 2023 – live | Cricket World Cup 2023
Key events
7th over: New Zealand 18-1 (Conway 7, Williamson 1) Damn! Conway drives, with balance, but Mendy flies in the air at backward point and gets a hand to the ball but can't hold on. Conway takes two, Mustafizur grins ruefully.
6th over: New Zealand 15-1 (Conway 4, Williamson 1) Reminded that Allan Donald is Bangladesh's bowling coach, as Shoriful, long of torso and rapid of speed, sends down a maiden.
And in news just in, Alastair Cook has retired from all cricket.
5th over: New Zealand 15-1 (Conway 4, Williamson 1) Quite an examination here for New Zealands two arch accumulators. Mustafizur, wiping the sweat from his ears, charging in, mixing up his lengths. Conway charges down the pitch, swings, and is lucky to escape.
4th over: New Zealand 14-1 (Conway 4, Williamson 0) More tidy work from Shoriful Islam who is finding considerable lift. He finished with a fiery snorter which Conway swings at but misses.
An email wings in from Krishnamoorthy V, before, it must be said, New Zealand lost their first wicket.
"You will have time to go for an evening walk along the Thames. Kiwis will wrap this up in under 32 overs." Bold prediction! It will have to be the Mersey rather than the Thames, but if they can wrap it up before sunset, I'd be very grateful.
3rd over: New Zealand 12-1 (Conway 2, Williamson 0) Ravindra was just getting settled, having pinged Mustafizur for two fours in his first three balls, when he was done by one with a bit more fizz. Enter Kane Williamson, towel rubbed and ready to go.
WICKET! Ravindra c Mushafiqur b Mustafizur Rahim 9 (New Zealand 12-1)
Some extra bounce and a crouched Ravindra gets an outside edge through to the keeper!
2nd over: New Zealand 4-0 (Conway 2, Ravindra 1) The tall Shoriful Islam starts at the other end. Throws in a wide waving down leg side, but otherwise a miserly effort, with New Zealand picking up just two singles including an uncomfortable squeeze by Ravindara.
New Zealand need 246 to win
1st over: New Zealand 1-0 (Conway 1, Ravindra 0) Mustafizur Rahman with the new ball, Conway off the mark straight away with a clerical dab down to third, but that's New Zealand's lot from a neat and tidy first over. Lots of enthusiastic noise from the crowd.
An early email drops. "Hello Tanya!" Kim Thonger, hello.
"On Sunday I met a Bangladeshi cab driver in New York who told me he is the only one of his 200 strong friends and family network there with no interest in cricket whatsoever. He is a soccer man, and bizarrely his team is not USA but Brazil, for reasons he was reluctant to explain. He also observed all speed limits, a true contrarian."
A reporter on the spot reports that the pitch hasn't been scuffed up as much as you'd expect from a Chennai pitch. Simon Doull's take: "The openers will take it fairly easy up front and then consolidate in the middle and knock if off in the 43rd." Just grabbing a coffee, please do send me your thoughts on this damp Friday afternoon in the UK. The New Zealand chase up imminently.
Thanks Taha, and hello! Switching on to an indifferently full stadium and Bangladesh down – but not out. A steady rebuilding effort from a perilous 56-4, but no real period of fireworks. You'd expect New Zealand to cruise this and tart up their already impressive NRR, but even the Black Caps can have a bad day at the office.
That'll be enough from me. Tanya Aldred's here to take you through to the close.
New Zealand controlled that innings from the start, with Trent Boult removing Litton Das with the first ball of the match. Lockie Ferguson was particularly brilliant, taking 3-49 as his short ball caused all sorts of havoc, while Mitchell Santner was typically tidy, taking 1-31 from his 10 overs. Glenn Phillips and Matt Henry were among the wickets, too. Bangladesh, well, they just didn't show much intent. Mushfiqur Rahim did a solid rebuild job with his 66, but the next-best effort was Mahmudullah at No.8 with an unbeaten 41. 245 doesn't look like it'll be enough, especially when you remember what New Zealand's batters have been up to so far in this tournament.
New Zealand need 246 runs from 50 overs
50th over: Bangladesh 245-9 (Mahmudullah 41, Shoriful 2) Williamson, out of frontline options, turns to Daryl Mitchell for the last over of the innings. And Mahmudullah greets the first ball, a slower ball dug into the surface, with a smack down the ground for six! They run two with the next ball, and Mahmudullah, surprisingly, then allows for a single to give Shoriful the strike. The No.11 does his job, getting one immediately to bring Mahmudullah back. Another single follows and, well, they finish with a dot. Oops.
49th over: Bangladesh 234-9 (Mahmudullah 31, Shoriful 1) Boult bowls a half-volley and Mahmudullah finally nails it, swinging over the leg side for six. The last ball of the over is whipped away too, but falls short of the man at deep midwicket. 250 for Bangladesh?
WICKET! Mustafizur c Latham b Henry 4 (Bangladesh 225-9)
Mustafizur swats Henry high into the air, but the ball lands safely at long-off. But the Bangladesh No 10 is out next ball: short from Henry, and a bad-looking heave results in an edge into the skies. Latham cleans up.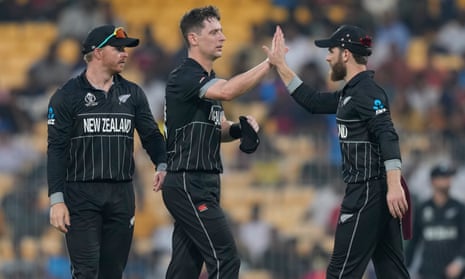 48th over: Bangladesh 225-9 (Mahmudullah 23, Shoriful 0)
47th over: Bangladesh 220-8 (Mahmudullah 21, Mustafizur 1) Mahmudullah doesn't want to give The Fizz a go with the bat, but he keeps finding the fielder while trying to locate the boundary. He finally takes a single with the penultimate delivery of Boult's over, and Mustafizur survives the rest.
46th over: Bangladesh 218-8 (Mahmudullah 20, Mustafizur 1) Bangladesh trudge away – this batting innings has been a tough watch, in all honesty.
WICKET! Taskin c Mitchell b Santner 17 (Bangladesh 214-8)
Santner, with the final ball of his parsimonious spell, gets a wicket. Ahmed sweeps hard and finds deep backward square leg. And I get to write c Mitchell b Santner! How exciting is that.
45th over: Bangladesh 214-8 (Mahmudullah 18, Mustafizur 0)
44th over: Bangladesh 213-7 (Mahmudullah 17, Taskin 17) Ferguson runs in for his last over, and Taskin just about weaves his bat away from a lifting delivery. A good shot from the tailender, driving a fuller delivery through the off side for a couple. And the over ends with a six – Ferguson goes short, but not short enough, and Taskin swings over the leg side. And my 210 prediction is predictably incorrect.
43rd over: Bangladesh 204-7 (Mahmudullah 16, Taskin 9) Santner is knocked about for four singles.
42nd over: Bangladesh 200-7 (Taskin 7, Mahmudullah 14) Nice shot from Mahmudullah, pulling Ferguson behind square for four to bring up 200. A bouncer that flies through is a fine retort from the quick.
41st over: Bangladesh 195-7 (Taskin 7, Mahmudullah 10) Taskin gets low to whack Ravindra over the leg side for six. Plenty of talk about the knuckleball on comms, and I'm rattling my head through the best ones I've seen. Archer bowled them at the last World Cup, Neil Wagner showed them off in Tests a few years ago. Any others out there who have excelled at it?
A breakdown of the Mushfiqur wicket, with Henry's slower ball doing the job:
40th over: Bangladesh 189-7 (Taskin 1, Mahmudullah 10) Short from Boult, and Mahmudullah, who hit a hundred against New Zealand at the 2015 World Cup, swivels away for one. All on him now to get Bangladesh something close to respectable as a total.
39th over: Bangladesh 185-7 (Mahmudullah 8, Taskin 0) Ravindra gets Mahmudullah's outside edge, but there's no slip and the ball runs away for four.
38th over: Bangladesh 180-7 (Taskin 0, Mahmudullah 3) How many can Bangladesh get? I reckon not much more than 210.
WICKET! Hridoy c Santner b Boult 13 (Bangladesh 180-7)
Knuckle ball from Boult and Hridoy chips to cover. Bangladesh are crumbling, and that's 200 ODI wickets for the masterful left-armer.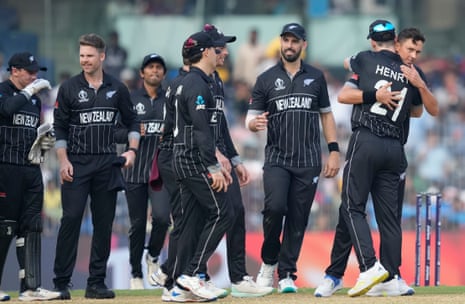 37th over: Bangladesh 179-6 (Mahmudullah 2, Hridoy 13) Santner, programmed to give pretty much nothing away, lets Bangladesh collect a few singles but no boundaries.
WICKET! Mushfiqur b Henry 66 (Bangladesh 175-6)
Lovely from Mushfiqur, who shuffles across his crease to scoop Henry to the fine-leg rope for four. But Henry has revenge: the ball keeps low to bowl Mushfiqur, who ends up on the ground after missing with his leg-side swipe. He played well, but Bangladesh needed him there for the long haul.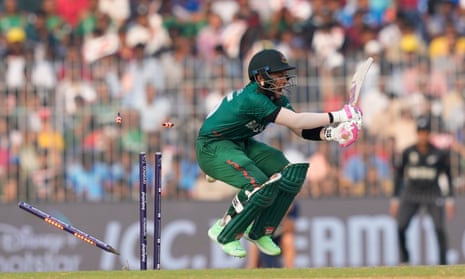 36th over: Bangladesh 175-6 (Hridoy 11, Mahmudullah 0)
35th over: Bangladesh 168-5 (Hridoy 9, Mushfiqur 61) Just a gentle nudge on how long Mushfiqur's been doing this for Bangladesh – he made his Test debut at Lord's in May 2005. That's right, he made his Test debut before Kevin Pietersen. Just one off the over, by the way.
34th over: Bangladesh 167-5 (Hridoy 8, Mushfiqur 61) Henry does his best Ferguson impression, bowling a short one to Hridoy, but it's pulled away nicely for one. Six balls, six singles.
33rd over: Bangladesh 161-5 (Mushfiqur 58, Hridoy 5) No boundaries since Shakib's dismissal, with Santner racing through another one – just two off it.
32nd over: Bangladesh 159-5 (Hridoy 4, Mushfiqur 57) Ferguson, probably a really nice fella, continues to deliver some nasty-lookin' deliveries.
31st over: Bangladesh 156-5 (Hridoy 2, Mushfiqur 56) Ravindra continues, now with two right-handers to bowl at, which should please him. He concedes four singles.
30th over: Bangladesh 152-5 (Mushfiqur 54, Hridoy 0) Ferguson, brilliant today with his bumper, has 3-32 after seven overs.
WICKET! Shakib c Latham b Ferguson 40 (Bangladesh 152-5)
The electric Ferguson, still bowling in the ninties (mph) despite the heat and humidity, rushes onto Shakib – but it still goes for six! It's a mis-hit, but it sails away over the leg side. And then the wicket! Another short ball, another attempted pull, but an edge goes high in the air this time and Latham runs around to his right to hold on.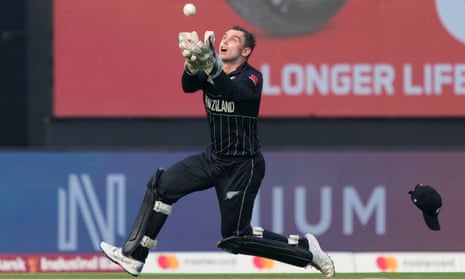 29th over: Bangladesh 145-4 (Mushfiqur 53, Shakib 34) Shakib's got the helmet off, like he means business, and he goes down the pitch to loft Ravindra straight for four. And then another skip down – this time he clears the ropes at deep midwicket. The Bangladesh captain's got a niggle, and he's decided to whack it about.
Shakib needs a breather – he looks in a bit of pain. Time for drinks for the players, and a coffee for me.
28th over: Bangladesh 133-4 (Mushfiqur 52, Shakib 23) Shakib shows a desire to attack, but his flash outside off doesn't result in contact as Ferguson whizzes one through. A no ball at the end of the over results in a free hit, but Mushfiqur can't get the bumper away.
A 52-ball half-century for Mushfiqur, who cuts Ferguson behind point again, this time for four. He now needs Shakib to join in on the fun.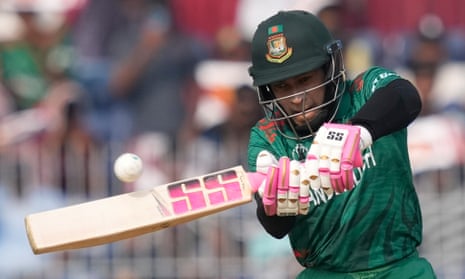 27th over: Bangladesh 126-4 (Mushfiqur 47, Shakib 22) Ravindra runs through his six very quickly, just two coming off it.
26th over: Bangladesh 124-4 (Shakib 21, Mushfiqur 46) Ferguson thunders through and Mushfiqur, even with his eye in, struggles to lay a bat on him. But after five dots… a six! Short, wide and the ball is cut behind point, going all the way. Shot.
25th over: Bangladesh 118-4 (Mushfiqur 40, Shakib 21) Mushfiqur sweeps Ravindra, but not cleanly, collecting two for his efforts. We're halfway through the innings and Bangladesh could do with speeding things up now.
24th over: Bangladesh 114-4 (Shakib 20, Mushfiqur 37) Ian Bishop and Michael Atherton run through Boult's bag of tricks on TV – the stock ball, off-cutter and knuckle ball all in his possession. Just a lovely bowler, isn't he, up there with Shaheen Afridi and Mitchell Starc as one of the best left-arm quicks in the world today.
23rd over: Bangladesh 110-4 (Mushfiqur 35, Shakib 18) Rachin Ravindra, who's doing plenty with the bat at the moment, gets a go with the ball. Four singles off it.
22nd over: Bangladesh 106-4 (Shakib 16, Mushfiqur 33) Boult is back, and he gets an edge off Mushfiqur, but the ball flies high to the right of Latham and away for four.
21st over: Bangladesh 100-4 (Shakib 15, Mushfiqur 28) Santner mixes up his speeds beautifully, but Shakib finally says enough is enough and skips down the pitch to thwack straight for four.
20th over: Bangladesh 93-4 (Mushfiqur 26, Shakib 10) Very tidy from Mushfiqur, who delicately guides a cutter from Henry to third man for four – Chapman nearly pulled off a terrific save. Shakib finally cuts loose, pulling Henry away for four.
19th over: Bangladesh 83-4 (Shakib 5, Mushfiqur 21) Santner keeps on twirling and Shakib remains patient, currently on 5 off 21.